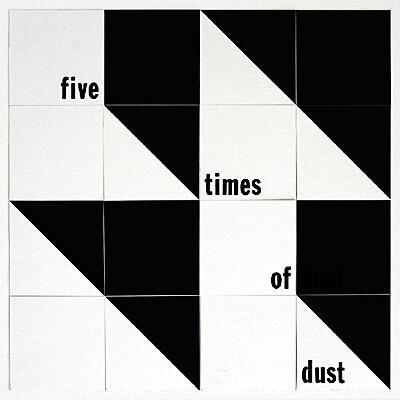 2LP: ltd. edition of 500 numbered copies. 180 gr. vinyl. heavyweight gatefoldsleeve.
Smile With The Eyes is a double LP of selections of unreleased material from the prolific outsider / underground duo Five Times Of Dust. Formed in 1980 in Bristol, the duo of Mark Phillips (MAP) and Robert Lawrence came together with a shared passion for Krautrock, Industrial Electronics and the burgeoning DIY tape scene as well as being influence by the Dadaist movement and the works of Burroughs and Ballard. Unconventional and quirky, yet at times melancholic and romantic their music was a perfect escape from the urban decay of early 80s Bristol and Cardiff, the two cities they travelled between at weekends to recored. Although unashamedly electronic, the sound of Five Time Of Dust is far harder to pin down, in part perhaps due to their location. Both Phillips and Lawrence produced music that owed little to any scene happening in London, Manchester or Sheffield at the time. As a result, the majority of their output are perfectly formed electronic curiosities.
The material on Smile With The Eyes spans recordings Lawrence and Phillips made between 1982-1986. As a follow up to The Dadacomputer, their debut cassette release as a duo which we reissued earlier this year, Smile With The Eyes remains lo-fi but is musically more complex. The recordings are catchy, curious and emotionally rich. Whereas The Dadacomputer could be compared with the early output of Robert Rental, Smile With The Eyes is a collection of works that stands all on its own.
Five Times Of Dust

:

Smile With The Eyes

Smile With The Eyes

Five Times Of Dust

1' 22''

Advertising Space

Five Times Of Dust

1' 30''

Sayonara

Five Times Of Dust

1' 27''

I Want Straight Sex

Five Times Of Dust

43''

The Single Off The Album

Five Times Of Dust

1' 09''

Plastische Taschen

Five Times Of Dust

1' 24''

Ethnic Bomb

Five Times Of Dust

1' 04''

The Estate Children

Five Times Of Dust

1' 20''

Insect Charge

Five Times Of Dust

1' 16''

Technology

Five Times Of Dust

1' 03''

Megamix

Five Times Of Dust

1' 23''

The Mainframe

Five Times Of Dust

1' 30''

Riding To Heaven

Five Times Of Dust

5' 11''

Covered In Dust

Five Times Of Dust

1' 05''
Nice as well: