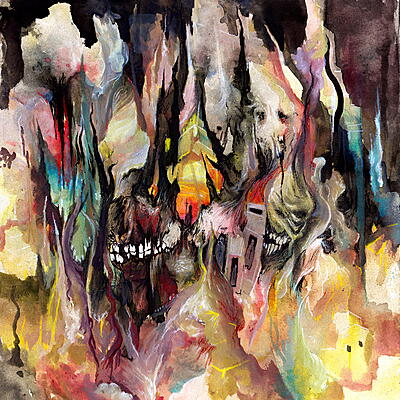 7": Includes download, pink vinyl, incl. insert
Many of your are already familiar with the caustic sludge / doom crafted by Fórn, and the new song they contribute to this split will clearly prove that their debut album, The Departure of Consciousness, was just the beginning. This serves as an exciting glimpse into the future work from Fórn.

Yautja are a new addition to the Gilead Media family, although they share a drummer with Alraune, so they're not complete strangers. If you haven't checked out their debut LP, Songs of Descent, released by Forcefield Records in 2014, you are doing yourself a great disservice. Yautja have made a huge mark on the heavy music world for their seamless, brilliant blend of intricate metal, grind, and riff-heavy noise-rock. It's truly something to behold.
Fórn & Yautja

:

Split Single

Fórn - Ancient Tongues

Fórn & Yautja

5' 35''

Yautja - Processed

Fórn & Yautja

4' 11''
Nice as well: