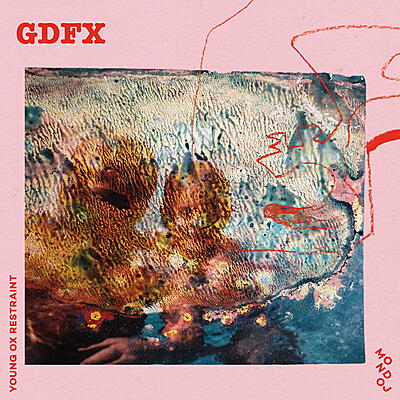 GDFX
Young Ox Restraint
Mondoj
MONDOJ03MC
Incl. Instant Download
Few artists can keep pace with Greg Fox. A true stalwart of America's east coast experimental scene, Fox still maintains his busy schedule drumming in a wide array of collaborative projects following his well-received second solo album released via RVNG Intl. under his own name last year - The Gradual Progression. Whether it's chairing the heart of improv outfit Guardian Alien, pushing avantgarde limits with fluctuating collective Zs, melting faces with Colin Stetson in their metal band Ex-Eye, or providing stickwork for the likes of Hieroglyphic Being, Fox's music remains in constant forward motion.

For over a decade, Fox's GDFX alias has however been his most purely experimental solo project; an outlet for his musical persona away from the drum kit. Previous releases via Ormolycka and Impose Records saw Fox crafting electronic soundscapes and fractured electronic beat music under the name, but Young Ox Restraint sees GDFX finally mature into a new idiosyncratic and utterly essential form.

While Fox stays away from drums throughout, rhythm plays a central role across Young Ox Restraint. Confining himself solely to a modular synth setup for the first time, expressionist blasts of melody and constant polyrhythms tumble from Fox's fingers. This is a new kind of euphoria, adapting some of Fox's uniquely erratic percussive energy into self-contained chambers of erratic melody. The second side sees Fox indulge his IDM-self on the drum machine heavy 'Sensing in the Big Toe', before closing out with the lustral drifting tones of 'Repenting Extinguished'. Much of Young Ox Restraint was recorded utilising a larger setup, but some saw Fox limit his setup to a mere 2 or 3 modules. Brief interlude 'Abashment' is a bareboned chiptune deconstruction, while the opening title track is a living breathing collage of colliding bass chugs, percussive clatter, and entropic electronic plucking.

Young Ox Restraint is a testament to Greg Fox's dynamism, and the constant forward motion of his music. Breaking free from familiar structures and practices has been a constant in Fox's career - but GDFX is now scoping out a distinct new path of beautiful cataclysm and polyrhythmic synth poetry.
GDFX

:

Young Ox Restraint

Young Ox Restraint

GDFX

5' 14''

Don't Give Up the Ship

GDFX

4' 16''

Eliminating Arms

GDFX

3' 00''

The Road to Hell is Paved with Good Intentions

GDFX

1' 56''

Sensing in the Big Toe

GDFX

5' 13''

Repenting Extinguished

GDFX

7' 03''
Nice as well: