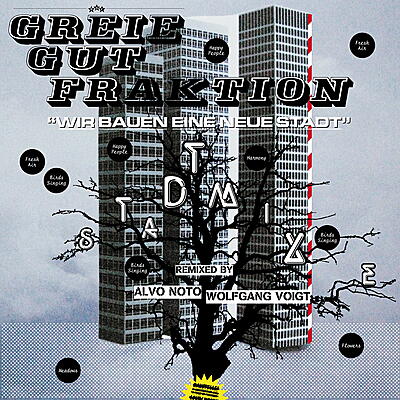 Incl. Instant Download
Baustelle is the title of the new album by AGF and Gudrun Gut under their collaborative name, Greie Gut Fraktion. To accompany the long player, they have also released a 12" of the lead song, Wir bauen eine neue Stadt, complete with remixes by Alva Noto and Wolfgang Voigt. The 12 inch opens up with the Alva Noto remodel. Co-founder of raster-noton records, Carsten Nicolai is reknowned for his innovative use of noise in sound-art and electronic music. His treatment of Wir bauen eine neue Stadt results in a menacingly droning track that constantly builds towards an immanent crescendo.
Side-A of this powerful single comes to a close with a shortcut of Greie & Gut's fantastic version of the Palais Schaumburg song. Originally a hit for Holger Hiller & Thomas Fehlmann's band in 1981, the Greie Gut Fraktion really have brought the number up to date with this version (to be found on the album in an extended edit) recorded in 2009 as a commision for BBC radio Late Junction. Wolfgang Voigt is another character who simply needs no introduction thanks to his huge contribution to the contemporary electronic music scene. Wether as boss of Cologne's Kompakt label, or through his own projects such as Wassermann, Burger/Voigt, Mike Ink or most recently under the GAS moniker with a book/record release on Nicolai's raster-noton label, the man's influence is without question. A foretaste of his upcoming album of Freiland Klavier Music, Voigt has delivered not one but two piano mixes of Wir bauen... to make for a strong B-side.
A truly diverse single, there is something for every occasion on this 12". While the Greie Gut cover has all the feeling of a powerful remix in itself, Alva Noto and Wolfgang Voigt's style are so far apart so as to make for a fantastically varied maxi.
Greie Gut Fraktion

:

Wir Bauen Eine Neue Stadt

Wir Bauen Eine Neue Stadt

(Alva Noto Remodel)

Greie Gut Fraktion

8' 56''

Wir Bauen Eine Neue Stadt (Radio Mix)

(Shortcut)

Greie Gut Fraktion

3' 41''

Wir Bauen Eine Neue Stadt

(Wolfgang Voigt Freiland Klaviermix 1)

Greie Gut Fraktion

5' 44''

Wir Bauen Eine Neue Stadt

(Wolfgang Voigt Freiland Klaviermix 2)

Greie Gut Fraktion

5' 41''
Nice as well: