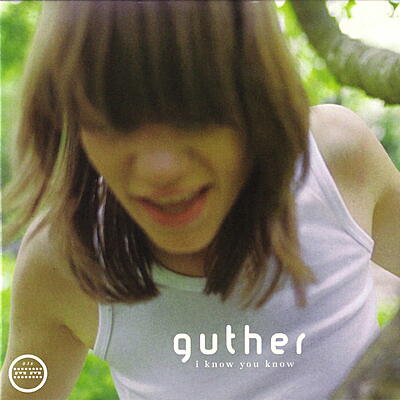 Incl. Instant Download
Even if Guther consists only of Julia and Berend, they form a band, not a duo. This is important to them. Guther, born in the summer of 2002, is not only the band's name but also Julia's last name. It is a hint at her pivotal role within the band. If you ask Julia what kind of music Guther makes, she answers "girl's music". Without irony and without naivity as well. But their debut album "I Know You Know" is a summer record, too. Not only because Julia started to work on a few song sketches in the summer of 2002, but also, because the actual album was recorded from April to June 2003 only.
Julia's songwriting and English lyrics first and foremost excel in tranquility, a bitter sweetness as well as in a clear simplicity (after aeons of classical training, Guther is Julia's first attempt ever to do a pop project, by the way). "Our music isn't intellectual. It's rather emotional, though I don't like this word much. We've chosen simplicity, even in respect to the lyrics. Most of the time, the sound of the words is more important than their content." The result is all but unintelligent though. Guther's classic pop arrangements have an excellent timing. Every time you think you got it, their songs move into a new and surprising direction. "Julia's songs provide conditions that make us take more risks!" What Berend is talking about is not limitless experimentation, but rather the contrary. He is refering to the fact that Guther's initial idea has been "without ambition" in the best sense.
At no point during the recording of "I Know You Know", which took place entirely in a Berlin Mitte appartment, had Julia and Berend intended to record a whole album or even to make some money with what they've just started. They have rather been concerned about getting as close to an idea of their favourite music as possible. At the same time they have managed to update that kind of lofi-indie-pop reminiscent of labels like Teen Beat or Slumberland. But Guther are definitely not a lofi outfit. The means of electronic production – a computer, a synthesiszer and a drum computer – have clearly left their traces in their sound.
Listening to the ten songs from Guther's debut, all of them display a certain immediacy, which on the one hand cleary comes from the very private setting "I Know You Know" has been recorded in. On the other hand, it also comes from the really short and spontaneous production process. "When it became more and more clear that we would do a record on Morr Music, we always waited for stress or some other sort of pressure to start. But it never happened. It only got stressful during post production", says Berend, whose experience as a professional musician and producer complements Julia's approach perfectly.
To their own suprise Guther produced their album just like that. And what is more, they managed to come up with songs that are all they ever wanted to hear in music: positively pop without being pretentious.
Guther

:

I Know You Know

The Other Day

Guther

2' 59''

Boys Do Not Think

Guther

4' 11''

Personal Confusion

Guther

3' 45''

Trouble You Cause

Guther

5' 10''

What She Felt

Guther

5' 30''

Deepest Blue

Guther

3' 27''
Nice as well: