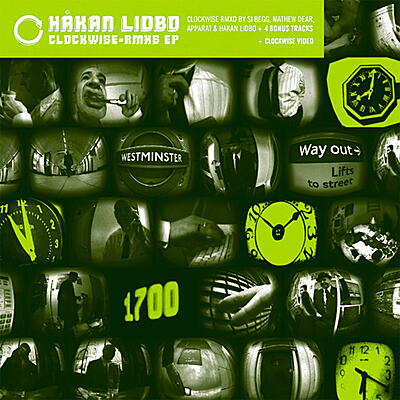 Incl. Instant Download
The life of Anne Frost and John Lane can definitely be described as a routine. Anne is hard working, lives in London, works in a restaurant, and has a thirteen-hour day. John Lane, also from London, is a bank employee and the typical nine-to-fiver. Breakfast hours are regulated strictly. This is the deeply sharp plot of "Clockwise," the identical name from the piece on Hakan Lidbo's Shitkatapult EP (strike 38/2003). That one swerved with a musical narration between pulp'n'bass and yap-phonics painted by undertones of toothpaste and edible sounds. The actual interesting part about Anne and John's catchy stories remains in the fantasy of the listener. In some way it stays open, whether or not they both know each other, maybe even fuck, given a nice lunch break. As for fucking, it was obvious that Hakan Lidbo wouldn't forget to finger the ol' label whores at Shitkatapult. In so doing, it will only be a short while before the Proms are called up and turned onto pushing a special version of "Clockwise." SiBegg, Brighton Noodles Imperialist, is busy transplanting Anne and John's story into a British undercover-agent comedy. A bomb is ticking, suspicious signs strike keys conscientious of accusations as the protagonists stutter, since the emergency number isn't working with Dr. No in charge of the bass-buzzer on the power lines. Hakan's punkslut Minimix has nothing but quacking spite for Anne and John's day in day out routine, coming and going as fast as the point of a ridiculous joke. Apparat, that old fogy, winds the tempo down so far until it's running backward since it's nighttime and John is dreaming Anne's dream. Matthew Dear, the platinum boy from Ghostly International who respectively gave the minimal techno experience life and enjoyment in 2003, shuffles with Anne and John in the clacking and scratching infinity of reduction, where beginning and end always hang out in the middle.

Vinyl has been pressed for all those who like to see big names united on one record without needing to switch the plate. The CD is complete with all the tracks and remixes of the EP as well as an extra mini-movie for home use. Hair dressers would be smart to buy it for their salons, where people like Anne and John go to have their hair done up. Of course there will be others who gaze in the mirror and wonder about it.
Hakan Lidbo

:

Clockwise Remixes - EP

Clockwise Original

Hakan Lidbo

3' 02''

Clockwise

(Si Begg Rmx)

Hakan Lidbo

5' 56''

Clockwise

(Lidbo Punkslut Rmx)

Hakan Lidbo

1' 56''

Clockwise

(Apparat Rmx)

Hakan Lidbo

5' 44''

Clockwise

(Matthew Dear Rmx)

Hakan Lidbo

7' 03''

Clockwise

(Lidbo Jetset Mx)

Hakan Lidbo

3' 26''

Microsonic

Hakan Lidbo

2' 25''

The Fu-Clan

Hakan Lidbo

1' 31''

My First Honest Penny

Hakan Lidbo

6' 01''

Freeze Lapd

Hakan Lidbo

4' 15''
Nice as well: