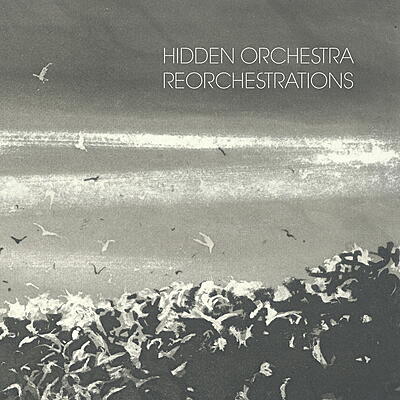 LP: Includes download, Incl. matt printed inner sleeves, 180g vinyl
This new collection of Joe Acheson's 'Reorchestrations' (including two previously unreleased tracks) takes works by exceptional experimental/classical/folk musicians as source material, and passes them through Joe's studio where they are intricately reworked with the trademark/signature/distinctive/typical Hidden Orchestra composition and production techniques. The result is a cohesive new Hidden Orchestra album, consisting of tracks produced since 2012, and representing the best of the music to come out of Joe's studio since the last full Hidden album 'Archipelago'.

Unlike many remixes, these sensitive and non-destructive 'Reorchestrations' mostly leave the original track intact, and add layers of drums, basslines, and textures which extend the arrangements and subvert the harmonies of the original tracks – resulting in expansive reinterpretations rather than complete reworkings. This release is the first volume in a series of Reorchestrations albums, featuring Joe's reworkings of experimental/classical/folk/jazz musicians.

The project started with a remix of Liverpool band Kinetic Fallacy - which eventually became the track The Revival when Kinetic Fallacy disbanded, and has since become a staple encore of Hidden Orchestra live performances - hence its inclusion as the final track on this release. The two unreleased tracks are reworkings of members of the Hidden Orchestra live ensemble – Poppy Ackroyd (violin/piano), and Mary Macmaster (harps). There are also remixes of Hidden collaborator and occasional live guest clarinettist Tomas Dvorak (AKA Floex), Russian producer Long Arm, Anglo-French duo Piano Interrupted, and Czech clarinet quartet Clarinet Factory.
Hidden Orchestra

:

Reorchestrations

Cross Hands

(Hidden Orchestra Remix)

Piano Interrupted

5' 52''

5 Steps

(Hidden Orchestra Remix)

Clarinet Factory

5' 50''

Lyre Grounds

(Hidden Orchestra Remix)

Poppy Ackroyd

6' 02''

Thograinn Thograinn

(Hidden Orchestra Remix)

Macmaster / Hay

4' 27''

Saturnin Fire And The Restless Ocean

(Hidden Orchestra Remix)

Floex

4' 18''

Sleep Key

(Hidden Orchestra Remix)

Long Arm

4' 31''

The Revival

Hidden Orchestra

4' 41''
Nice as well: