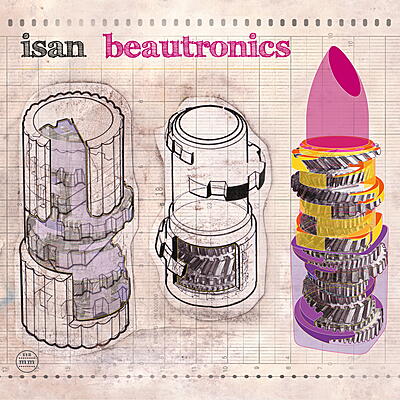 Incl. Instant Download
Special Record Store Day 2013 release! LP version includes free download!
One explanation for the 90s-fascination with Casio, Korg and other analogue synthesizers is quickly at hand: The 1st video-game generation was coming of age and were happy to hear that their dearly loved "Space Invaders"-soundtrack was suddenly popping up in electronic music. It takes slightly longer to explain why one record from that time - "Beautronics", the debut by UK-synth-duo ISAN first released in 1998 - kept its appeal until today.
"Beautronics" does not grab you immediately. You don't hum these tunes after a few listens, in fact you might not even hum them after dozens of spins. It's not about humming. It's about soft cushions and a cosy duvet made of sounds, it's about aural sheets floating around like warm humidity during a hot bath. Occasionally it's even about IDM, but in a very late-night kind of way.
Antony Ryan and Robin Saville, the two English lads behind ISAN, are very open about their goals. They separate the longer tracks with short, often abstract pieces they called "Tints". So it's as much about tonal colour, as it is about melodies. The "Tints" form an interesting contrast between ambient sounds and the more focused tunes. But even their most bass-dominated songs such as "Skeek" are not exactly four to the floor. There's no more than one to the floor, while the rest is sailing somewhere above in a haze of beautiful sounds and melodies. The album's sleeve and title are straightforward about this: it's all about the human beauty in electronica.
Just like your mom's heartbeat that set the tone for the first nine months of your life, "Beautronics" produces sounds that radiate a warmth and naturalness that make them feel familiar upon first listen. The 15 years since its initial release don't change a thing about this. That's why it's certain, that "Beautronics" will win a new generation of listeners with this re-issue.
ISAN

:

Beautronics

Tint 1 - Barely Barley

ISAN

1' 23''

Tint 2 - Rosy Apples

ISAN

1' 48''

Tint 3 - Clearly Caramel

ISAN

1' 29''

Spinning Jennie

ISAN

4' 49''

Tint 4 - C'est Le Tempo

ISAN

1' 03''

Tint 5 - Glittery Disco Blue

ISAN

1' 06''

Tint 6 - Cheeky Cherry

ISAN

51''

Tint 7 - Bloody Mary

ISAN

1' 24''

Thumbloop #1

ISAN

1' 08''
Nice as well: