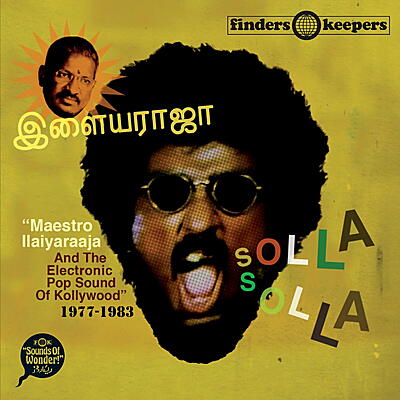 2LP: Remastered & Repackaged 2015 Version
Ilaiyaraaja, Ilayaraja, Ilayaraaja, Isaignani, The Maestro… The undeniable prince of Kollywood cinema, India's second largest film industry, Ilaiyaraaja is more than equal to his forward thinking contemporaries in Bollywood and Lollywood in both productivity and experimentation. However, once you have exhausted all possible leads using his various names (and the numerous misspellings) you're faced with the unenviable task of sifting through a 34-year career spanning more than 900 film scores in Tamil, Hindi, Telugu, Malayalam and Kannada in order to unearth some the heaviest dancefloor friendly electronic pop to ever emerge from Southern India.

Impossible to pigeonhole and characterised by his own indefinable style the man is a genre in his own right.
Ilaiyaraaja

:

Solla Solla

Kholapurase Kudasathrivasi

Ilaiyaraaja

4' 32''

Thanimayil

Ilaiyaraaja

4' 21''

Mayakkama

Ilaiyaraaja

4' 33''

Vaa! Naailukku Naall

Ilaiyaraaja

4' 24''

Solla Solla

Ilaiyaraaja

3' 32''

Raja Rani Jaakki

Ilaiyaraaja

4' 19''

Thithikkum

Ilaiyaraaja

4' 30''

One And Two Chachacha

Ilaiyaraaja

6' 42''

Disco Sound

Ilaiyaraaja

3' 35''

Yennadi Meenakshi

Ilaiyaraaja

4' 05''

Kanavu Ondru

Ilaiyaraaja

4' 32''

Naanthaan Ungappanda

Ilaiyaraaja

4' 31''

Sorgam Madhuvile

Ilaiyaraaja

4' 28''

Ponnana Neram

Ilaiyaraaja

4' 19''

Rasigane

Ilaiyaraaja

4' 57''

Aadal Paadalil

Ilaiyaraaja

4' 23''
Nice as well: