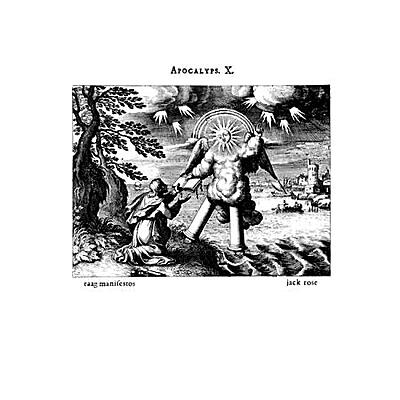 LP: Includes download, Tip-On Gatefold Sleeve
Part of a collaboration with Jack Rose's estate and Three Lobed Records to restore all of his LPs to print, VHF presents new vinyl editions of the celebrated guitarist's first three solo albums, newly cut by John Golden Mastering from the original source material. Originally issued on LP by Eclipse Records between 2002-04, these releases chart an eclectic, more experimental approach left behind as his technique and compositions became more refined and deliberate on later works like Kensington Blues.

Originally compiled from a variety of sources as a limited-edition CD to sell on tour in 2004 (released by VHF, later released on vinyl by Eclipse), Raag Manifestos presents much of Rose's rawest and most experimental music, cutting across various acoustic styles, but with a much more jagged and aggressive attack than later music. "Black Pearls from the River" and "Hart Crane's Old Boyfriends" are dense, serious assaults on the 12-string, with the intensity of the latter enhanced by Ian Nagoski's roaring electronic backdrop. With subtle tabla accompaniment by Eric Carbonara, "Crossing The Great Waters" is another epic modal journey in the style of Pelt's "Road To Catawba" and Rose's own "Red Horse." The traditional "Blessed Be the Name of the Lord" finishes off the LP on a calming note.
Jack Rose

:

Raag Manifestos

Black Pearls From The River

Jack Rose

2' 00''

Tower Of Babel

Jack Rose

2' 00''

Hart Crane's Old Boyfriends

Jack Rose

2' 00''

Crossing The Great Waters

Jack Rose

2' 00''

Blessed Be The Name Of The Lord

Jack Rose

2' 00''
Nice as well: