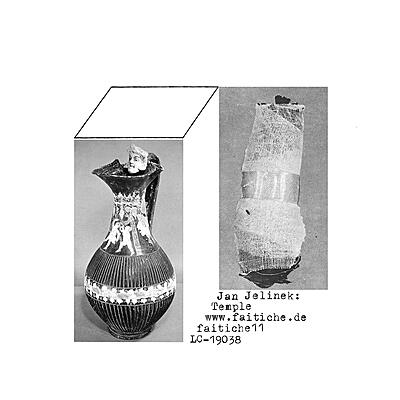 Incl. Instant Download
Faitiche is pleased to present Jan Jelinek's Temple. This mini-LP is the final installment in a series of four vinyl compilations that bring together the wide variety of Jelinek's music: commissioned works, live recordings, collaborations with other musicians as well as unreleased material from the last five years.
Side A:
As was the case with two tracks that appeared on the 2012 mini-LP Music for Fragments (faitiche 08), Temple stems from a collaboration with French-Canadian choreographer Sylvain Émard. Temple is a re-worked excerpt of the music for the dance piece Fragments – Volume I.
Side B:
The Gesellschaft zur Emanzipation des Samples (G.E.S.) welcomes a new member. Helmut Schmidt samples his way through the middle-class canon of values and assembles collages of Messian and Debussy (or is that Bach and Milhaud?), which are once again played back in public spaces and recorded anew. A backdrop of gambling unites the recordings: the playback locations chosen by Helmut Schmidt are Geneva, Baden-Baden and Bad Homburg. A triumvirate of bourgeois casino tradition.
Jan Jelinek

:

Temple

Temple

Jan Jelinek

10' 31''

Helmut Schmidt plays Bach

Gesellschaft Zur Emanzipation Des Samples

11' 19''

Helmut Schmidt plays Bach (Dub)

Gesellschaft Zur Emanzipation Des Samples

2' 47''
Nice as well: