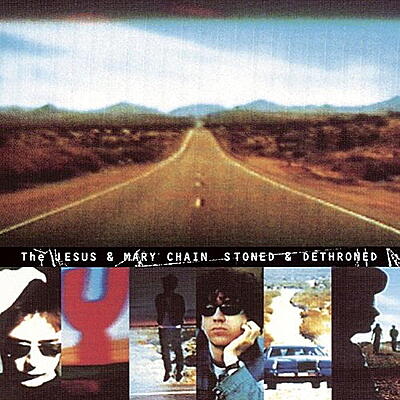 Stoned & Dethroned
1972
IF 06
The Jesus & Mary Chain picked the perfect time to make this record. Their sonic assaults and industrial pop could've only taken them so far. Proving that they were capable of making more intuitive and subtle art, Stoned & Dethroned positions the underlying desperation of the Reids' music in a different light.
Previously known for feedback-drenched pop songs and gothic surf / blues storms, The Jesus & Mary Chain followed a successful year of touring in 1992 (including a slot on the second Lollapalooza tour) by entering the studio to record an acoustic album. The sessions were the first time that principal members Jim and William Reid had embarked on a recording with a full band since their incendiary debut, but the results could not have been different.
Though the hooks were still there, Stoned & Dethroned emerged with a calmer, almost folk / country-tinged sound. Any feedback appears as hazy atmospherics rather than pain-inducing squeals. The sound of the album nobly approximates the drugged swagger of the classic early-'70s Rolling Stones records, but with The Jesus & Mary Chain's uniquely foreboding lyrical perspective.
Jesus And Mary Chain

:

Stoned & Dethroned

Dirty Water

Jesus And Mary Chain

3' 09''

Bullet Lovers

Jesus And Mary Chain

3' 40''

Sometimes Always

Jesus And Mary Chain

2' 32''

Come On

Jesus And Mary Chain

2' 14''

Between Us

Jesus And Mary Chain

3' 00''

Hole

Jesus And Mary Chain

2' 16''

Never Saw It Coming

Jesus And Mary Chain

3' 33''

She

Jesus And Mary Chain

3' 09''

Wish I Could

Jesus And Mary Chain

2' 43''

Save Me

Jesus And Mary Chain

2' 44''

Till It Shines

Jesus And Mary Chain

3' 18''

God Help Me

Jesus And Mary Chain

2' 48''

Girlfriend

Jesus And Mary Chain

3' 17''

Everybody I Know

Jesus And Mary Chain

2' 14''

You've Been A Friend

Jesus And Mary Chain

3' 38''

These Days

Jesus And Mary Chain

2' 32''

Feeling Lucky

Jesus And Mary Chain

2' 19''
Nice as well: