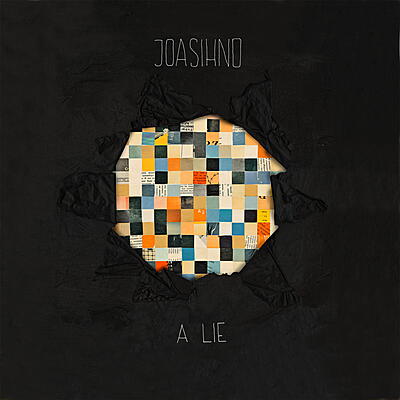 Incl. Instant Download
The ongoing love affair between US-Americans and rectangular, grid-like shapes is hardly a secret: There's Manhattan's grid system, and pretty much all state lines are straight; even Mid-West farmers prefer their plains and fields nice and square, as any domestic flight from one coast to the other will teach you. Yet, contrary to popular belief, things are not much different in Old Europe, or rather, in southern Germany: The "rectangular fields" surrounding, shaping, and defining the Upper Bavarian village Joasihno call home once again turned out a significant influence and defining factor during the duo's recording sessions for its sophomore effort A Lie. Former sole mastermind Christoph "Cico" Beck (Aloa Input, MS. John Soda) and his new band mate Nico Sierig (Missent To Denmark) have referred to them before, and apparently these oblong, "rectangular fields" work pretty much like blank sheets - just waiting to be filled with Joasihno's shape-shifting, rather circular, meandering, and free floating tracks that are full of surprising little twists and turns.
Having recently played another round of gigs with The Notwist and Owen Pallett - they previously also shared stages with Beirut, Sóley, 13 & God, and Youth Lagoon -, the opening track of Joasihno's second album feels a bit like a plane's smooth landing at sundown: the air is shimmering, and suddenly there's this new thirst for action upon touchdown, it's something Germans like to call Tatendrang. In other words: It's a proper kick-off to set the tone, gleaming, strumming, clapping euphorically; the sonic equivalent to a movie's "happy ending" right at the beginning. Further down those fields, they present a sound that seems to say "why not keep that level of playfulness", sometimes bolting and shooting off into the wind - "Oh Boy!" - but also staying true to its melancholy undercurrents reminiscent of the underrated Matt Marque. Elsewhere, Joasihno even live up to Cico's last name when "Some Light" indeed sounds a bit like a certain Beck Hansen trapped in the garden of intricate beats.
Over the course of the LP, the duo weaves a vast array of influences ranging from World Music to Minimal and back - Cico mentions Reich, Glass, Ligeti, and Nancarrow when asked about his key influences - into an electro-acoustic tapestry of sound that includes hypnotic layers ("Dream Of A Disappearing Friend"), surprising melodies almost reminiscent of The Strokes ("Oceans"; albeit using the kind of instrumentation you'd find in Hymie's Basement), and some fine home-made soundtrack material that would make any super-8 collection look even better ("In Our House"). Apparently, living that close to the ultimate border, the Limes of ancient Rome, results in a rather unbounded and limitless approach when it comes to DIY musicianship.
It's been a while since Joasihno dropped the first EP "Papiertonnentigertum" (2009) and the debut album We Say: Oh Well (2011), and so it's great to see that the spirit of DIY is still vehemently blowing from all sides across the "rectangular fields" of northern Bavaria. And just like the first rays of sunlight are about to return to the barren fields when A Lie finally sees its release, the sonic snapshots and moments gathered on this album are humming like an old-school slide show - in fact you can almost feel the shimmering air against the skin.
Joasihno

:

A Lie

Some Light

Joasihno

5' 34''

We Are Dreaming Of The Dark

Joasihno

4' 44''

Interlude

Joasihno

1' 21''

Black Holes And White Noise

Joasihno

4' 11''

Dream Of A Disappearing Friend

Joasihno

4' 54''

In Our House

Joasihno

3' 59''
Nice as well: