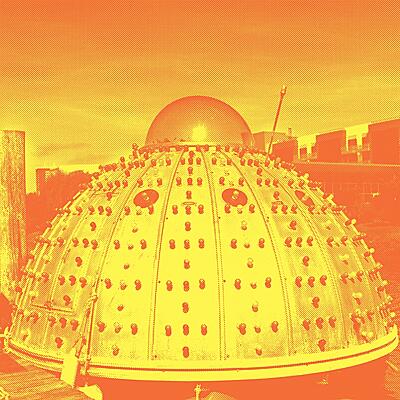 LP: Color vinyl, silk-screen artwork
'Brookland Suite' is inspired by Micha Acher travels to New Orleans and Johannes Enders' admiration for Gil Evans soundscapes.

The unique instrumentation and the rough sound make Brookland a very special Suite for lovers of deep sounds. Johannes Enders is a saxophone player with his own distinguished voice, and a rich international performing experience, covering gigs with artists as diverse as Donald Byrd, Jeff Watts, Roy Hargrove, Vincent Herring, George Cables, Lester Bowie and Jamaaladeen Tacuma. He won a Silver Award at the American MusicFest in San Francisco (1990) and was finalist at the Monk Competition in Washington D.C. (1991) and won the German "Jazz Echo" prize as best sax player. Micha Acher is best known as a founding member of innovative German postrock band The Notwist. Enders and Acher grew up together in Weilheim, a small town near Munich. Already back in 1992 they played together in the electro/free jazz band Tied & Tickled Trio (with Billy Hart). Now they decided it's time for another collaboration. For 'Brookland Suite' they invited New Orleans based sax player Dan Oestereicher and drummer Howard Curtis from Washington to join them.
Johannes Enders & Micha Acher

:

Brookland Suite

Tomorrows Past Trilogie Part 1

Johannes Enders & Micha Acher

4' 30''

Brookland

Johannes Enders & Micha Acher

4' 02''

Tomorrows Past Trilogie Part 2

Johannes Enders & Micha Acher

3' 54''

Low Pulse

Johannes Enders & Micha Acher

4' 59''

Tomorrows Past Trilogie Part 3

Johannes Enders & Micha Acher

6' 43''

Colenet

Johannes Enders & Micha Acher

3' 51''

Interlude

Johannes Enders & Micha Acher

3' 19''

Oreman

Johannes Enders & Micha Acher

5' 49''
Nice as well: