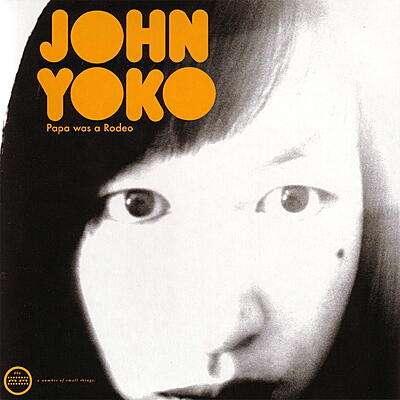 Incl. Instant Download
Lali Puna's Valerie Trebeljahr and Markus Acher have clearly resigned themselves to the joke that people often declared them as John & Yoko. This particularly iconoclastic nom de plume serves it's purpose fabulously for their first joint excursion outside the familiar surroundings of their band set up, and provides the latest instalment in a carefully selected series of 7"s on morr music's embryonic sub-label "a number of small things" - an imprint that's been dormant for quite some time. When asked why his 7" schedule seemed to be dancing to it's own rhythm, thomas morr replied that he was making "a rule out of missed opportunities", so now even the scheduling for this brilliantly manicured pop offshoot is as distinct from its elder sibling as the music it ensconces.
papa was a rodeo:
the two cover versions found on this delectable release were recorded at the Portmanteau Studio in Munich and mastered at Abbey Road in London - just after the sessions for Lali Puna's forthcoming collection of b-sides, remixes and rarities ("i thought i was over that", morr music 056, released on the 13th of june). The a-side features a cover version of The Magnetic Fields' "Papa Was a Rodeo" (considered by many to be the standout track in the band's hugely acclaimed "69 love songs" album) while the B-side features an incredible version of Smog's "The Morning Paper" (the opening track on 1997's "red apple falls".)
Lead vocal duties are passed here to Markus Acher, a man whose voice will already be familiar to so many followers of his other band - The Notwist. Markus sings in his reassuringly calming drawl, here couched by Valerie's sweet soothing voice, guiding him through the emotion and narrative of these two iconic songs. The production too is something new, more intimate, reduced to a simple arrangement of guitar, bass, piano and a quietly popping drum machine.
whether or not markus and valerie choose to revisit this collaborative venture remains to be seen, for the moment those of you with a keen sense of occasion will have to make do with this frustratingly limited release. But hey, sometimes you have to chase after the things you love.
John Yoko

:

Papa Was A Rodeo/ Morning Paper

Papa Was A Rodeo

John Yoko

4' 08''

Morning Paper

John Yoko

5' 39''
Nice as well: