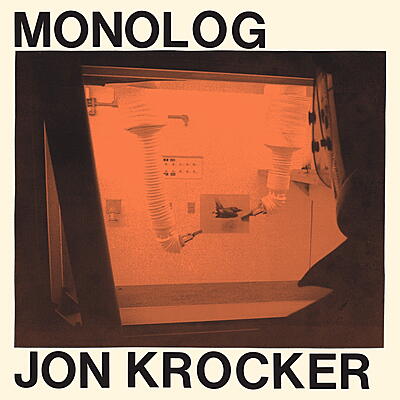 LP: Incl. 8-page newsprint zine
Dark Entries present the first ever vinyl issue of Jon Krocker's debut album 'Monolog' originally released on cassette in 1983. Jon is from Winnipeg, Canada and got his start as half of the synth noise duo Dialog. In 1981-82, while studying for a BA in Film Studies, he would go to the studio and practice. No writing or patch memories, composing on the fly. His set up consisted of a Minimoog, Oberheim Two Voice, Roland RS-202, Roland Space Echo, EML 400, Roland DR 55, Roland System 100 mixer. After playing some of the songs to Impulse Records store owner Roman Panchyshsyn, he agreed release the album on cassette on Contagious Records. Primarily influenced by the German school typified by artists such as Conrad Schnitzler and Kraftwerk, Jon's music exhibits the cold machine ethic of the neumusik. The 12 instrumental tracks are stark and minimal, at times anxious but overall space orientated and flexible.

All songs are remastered for vinyl by George Horn at Fantasy Studios in Berkeley. Each copy includes an 8-page newsprint zine featuring ephemera, press clippings, photos and liner notes by Jon.
Jon Krocker

:

Monolog

Anxious Nightwalk

Jon Krocker

1' 00''

Infrared

Jon Krocker

1' 00''

Voiced

Jon Krocker

1' 00''

Eyeless in Gizeh

Jon Krocker

1' 00''

Fast Return

Jon Krocker

1' 00''

Pop Song

Jon Krocker

1' 00''

Isogloss Without Prejudice

Jon Krocker

1' 00''

Cesare

Jon Krocker

1' 01''

Final Decay

Jon Krocker

1' 00''

Edging Into the Red

Jon Krocker

1' 01''
Nice as well: