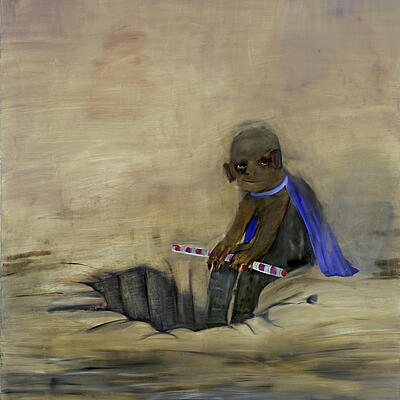 Incl. Instant Download
Bram Bosteels ´s Kaboom Karavan project re- appears out of the thick Belgian jungle to deliver what must be one of the strangest and most exotic records since Gultskra Artikler ´s uncatagorizable Kasha iz Topora. After the already quite surreal "Barra Barra" album on Miasmah from 2011, Bram takes his sound further into unknown yet still strangely familiar territories. Listening to Hokus Fokus feels like staring frozenly into a postcard sent from your long-lost uncle that went missing in the Amazon after an expedition gone-wrong (circa year 1935). Merge this image with the decaying sounds of an old Tom Waitz record slowly tuning out in the background and your getting close. This is not instantly gratifiable music, but rather a thick fog of details, sounds and atmospheres blended together with utmost precision and skill to create something quite unique that really shines with repeated listening and full immersion.
Coming from a background as a notorious piano- husk-experimenter, film, theatre and dance composer & regular Kreng collaborator – Bram has set off to confuse and wonder us with this selection of highly amazing Kaboom Karavan alternate-universe pieces fittingly entitled Hokus Fokus. For fans of 50 ´s exotica records, Jeff Beal ´s score for Carnivale´ (the tv-show) and Andy Votel/Demdike Stare curated Pre-Cert entertainment (w/artists such as Anworth Kirk and Slant Azymuth).
Kaboom Karavan

:

Hokus Fokus

Kolik

Kaboom Karavan

4' 50''

Omsk

Kaboom Karavan

3' 47''

KipKap

Kaboom Karavan

4' 15''

Lovzar

Kaboom Karavan

4' 11''

Kartoon Kannibal

Kaboom Karavan

3' 37''

Barbaroi

Kaboom Karavan

6' 03''

En Avant !

Kaboom Karavan

1' 36''

The A Theme

Kaboom Karavan

4' 38''

Sardonis

Kaboom Karavan

2' 36''

Miss Okee

Kaboom Karavan

5' 37''
Nice as well: