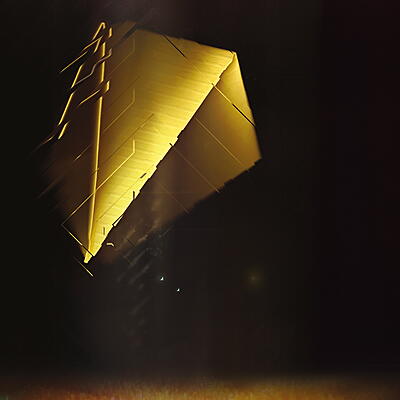 Kailin
Fracture
Mistry
MistryLP001
Beneath's Mistry label explores post-club dimensions with Kailin's debut album featuring eight tracks of hazy hooks, engulfing subs and grimy thizz rent in acres of space. Beneath describes it perfectly as "uplifting whilst also being dread filled..."

Much of the appeal of electronic music lies within the listener's ability to divine meaning from abstraction, often according to their own cultural conditioning. Kailin's enigmatic debut album of suggestive, dread-filled atmospheres and elusive, noise-sculpted rhythms, collected on Fracture, is essentially fuelled on this notion and perfectly resonates with the aesthetics and ideals conveyed by Beneath's Mistry label.

Making up the first LP release on Mistry after seven club-hingeing EPs from the likes of Batu, Laksa, Chevel and Webstarr, Kailin's Fracture occupies an introspective middle-distance between perceptions of club and ambient modes of reception by disintegrating dancefloor structures into a near-metaphysical presence with mercurial, vapourising gestures. Like Schrödingers cat in a bassbin, it's neither or, and possibly both at the same time, depending on your perception.

This paradoxical sense of simultaneous detachment and immersion perhaps stems from the album's production; originally sketched out in a 2 month haze, then left to steep for much longer, before the collection's nuances and conflicting elements began to reveal themselves in remarkable formations such as the OOBE electro flex of Circling or the midnight quantum jazz dynamics of Gimp, or a really big highlight in the teetering, polymetric ambient pop of Respite.

No doubt it's a fascinating and quintessential turn for Mistry, one which lives up to the label's name and its roots in the duppie dread effect of UK soundsystem culture, yet never previously revealed by Beneath's imprint in such absorbing and heady style before now.
Kailin

:

Fracture

Wake In Grey

Kailin

2' 49''

Disintergration

Kailin

3' 30''
Nice as well: