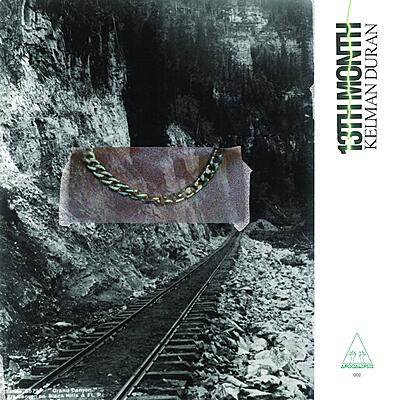 2LP (color): Edition of 500 copies, clear vinyl
In 2018, Kelman Duran followed up his amazing '1804 Kids' and various mixtapes with a epic new double album of textured, emotive dembow, hip hop mutations and field recordings, now also available on vinyl.

'13th Month' is titled after the Lakota Native American community's 13 month lunar calendar. It's arguably a perfect title to reflect the poignant, mystic appeal of Kelman's music, evoking a unique perception of time that's key to his mix of ancient, rooted rhythmic nous and forward/sideward looking arrangements of cut 'n paste textures, voices and haunting electronics.

Kelman has an uncanny ability to connote an otherness and transport us into his headspace. With '13th Month' he offers something akin to a spiritual memory upgrade, using fine tuned powers of intuition to fluidly sculpt richly impressionistic scenes evoking the trampling fervour of the Ghost Dance, but purposely transposed to downtrodden people and sites of worship in the here and now.

Opening with a couplet of scrolling, collaged panoramas in '13th Month in 3 Movements' and 'CLUB 664B' that surely recall the more recent, expansively cut-up nature of Burial records, Kelman continues to map out a mosaic of more succinct pieces, grouting stripped down club rhythms with brooding moments of introspection and a spectrum of voices, from urgent to mournful and frankly alien Latinx styles. Like Burial's patented 2-step, Kelman's dembow mutations are integral to the push and pull of his music. While it may take a bit of imagination to slot some of them in- the-mix, their brittle, skeletal structure and rugged function only heightens the inexorable yet sore, vulnerable appeal of his arrangements.

Perhaps the strangest element of this whole record for us, is the way it feels like we've heard it before - it's so familiar, in a trippy, dreamlike sense. And maybe cheesy as it sounds, we've felt that deja vu before with first listens of Autechre's 'Incunabula', AFX's 'SAW' volumes, and the Burial albums, and it's an instinct we've learned to listen to.
Kelman Duran

:

13th Month

RARA

Kelman Duran

5' 13''

TU MUERE AQUI Intro

Kelman Duran

4' 01''

CLUB 664B

Kelman Duran

14' 20''

6 am, 188st and Audubon

Kelman Duran

2' 37''

13th Month in 3 Movements

Kelman Duran

10' 44''

DIABLOS

Kelman Duran

3' 24''

QUEEN IVYSSS

Kelman Duran

3' 40''

lento x katana 1

Kelman Duran

4' 39''

funera-al

Kelman Duran

3' 02''

they are afraid of her

Kelman Duran

3' 20''

gravity waves II

Kelman Duran

3' 20''

13th MONTH II in 3 Movements

Kelman Duran

7' 19''
Nice as well: