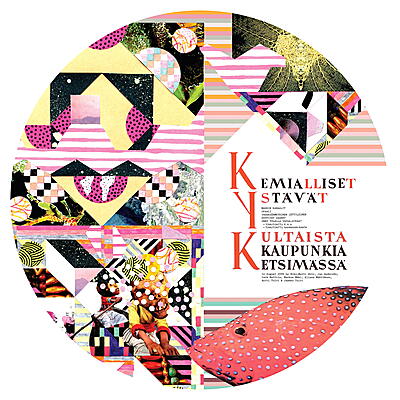 Kemialliset Ystävät
Kultaista Kaupunkia Etsimässä
Dekorder
Dekorder071EP
EP: Hybrid-vinyl: Picture-Disc on one side (no music), black vinyl on the other (music)
Incl. Instant Download
Here's the 4th part in Dekorder's brand new series of highly limited Hybrid-Vinyl 12" releases to celebrate the 10 year anniversary of the label.
While we have never worked with the whole band before, Kemialliset Ystävät have obviously been a massive influence on the label from the beginning. They are the eye of the storm of the Finnish psychedelic/experimental music scene with a dozen musicians gravitating around them, many of whom we have worked with in the past: Kuupuu, Uton, Hevoset and of course KY main man Jan Anderzen's Tomutonttu.
"Kultaista Kaupunkia EtsimässäI" was originally lined up for release on the Olde English Spelling Bee label before they went AWOL. Now this beautiful EP finally sees the light of day on Dekorder with two bonus tracks by Tomutonttu.
First track "Marsin Kanaalit" is one of the best tunes in KY's history and the rest of the EP is on par with their excellent recent output mixing Psychedelia, ancient Folk Music from Europe and Asia and lo-fi experimental Electronica.
Kemialliset Ystävät

:

Kultaista Kaupunkia Etsimässä

Marsin Kanaalit

Kemialliset Ystävät

3' 10''

Opaali

Kemialliset Ystävät

2' 08''

Yhdeksänmetrinen Jättiläinen

Kemialliset Ystävät

2' 36''

Hyppivät Saaret

Kemialliset Ystävät

35''

Onko Tulella Vapaa-Aikaa?

Kemialliset Ystävät

3' 03''

E.K.A.

Kemialliset Ystävät

3' 25''

Nahinahin Ranta

Kemialliset Ystävät

3' 01''
Nice as well: