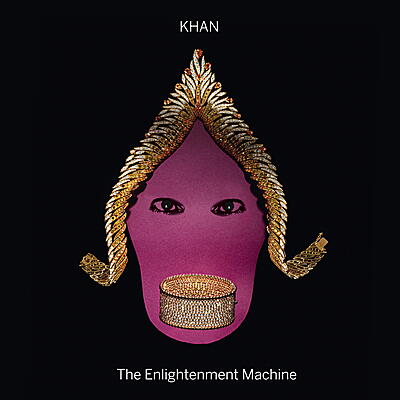 Incl. Instant Download
A nun in Berlin seeking enlightenment. Khan as a male hustler on "1-900 Get-Khan" (Matador) including his own phone sex line. Khan the torch singer Gothic Bunny on "Who Never Rests" (Tomlab), as the "Last Standing Disco Band" with Captain Comatose (Playhouse), once around the planet and off into space, and now as the bearded big city nun on Album Label. The songs on "The Enlightenment Machine" tell small tales of ethics gone astray, interchanged sexes and cheap pearls of wisdom that somehow ring true in the end. "The Enlightenment Machine" is inspired by Brion Gysin's Dream Machine. The eternal spinning of the turntable, boring into the future like a helix. These locked grooves serve as the basis of all the tracks on Khan's new album. They contain dense dub echoes, live percussions, deep sub-basses and the ghostly cello of New York guest musician Julia Kent. "The Enlightenment Machine" requires the same thing a dream machine does: to sit in front of it quietly with closed eyes and allow oneself to be illumi- nated. Groups are also accepted. Welcome to "The Enlightenment Machine".
"The more information you get, the less fantasy you have." – Andy Warhol
International troubadour and Berlin resident Khan and his "Enlightenment Machine" present the second release for the new music platform Album Label from the Random Noize Musick company, internationally known as a publisher under the same name (with Apparat, Oval, Raz Ohara and Phon.o, among others) and for its label Shitkatapult. Following Raz Ohara – Moksha (ALB001), Khan now comes with "The Enlightenment Machine" (ALB002), a specific yet very free model for understanding music in album format: novel-like, clear-cut, scattered, lovestruck. Likewise, on both records, the machines support the feelings, the instruments the voices, and the songs the tracks.
Khan

:

The Enlightenment Machine

You Like Like I Like

Khan

6' 08''

Pretty In Red

Khan

6' 27''

Everybody Is A Bell

Khan

5' 11''

Message In A Coke Bottle

Khan

3' 49''

The Enlightenment Machine

Khan

6' 10''

The Future (Is Immortal)

Khan

3' 28''

Pick A Point

Khan

3' 30''

The End (Will Be Pretty)

Khan

2' 48''
Nice as well: