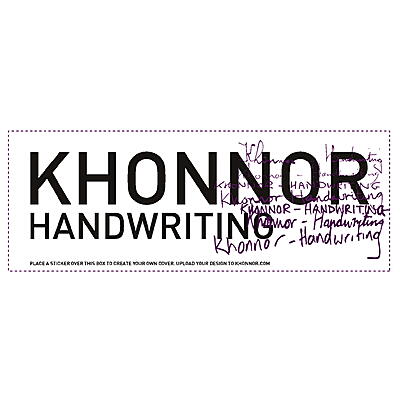 Khonnor
Handwriting
TYPE003
9/10 'These hymns to introspection are worth, oh, at least a chapel of anyone's sonic cathedral.' - NME
'He sounds utterly alone on "Handwriting," and he shows how magnificent solipsism can be.' - New York Times
"Remarkable... the sound of undiluted heartache." - The Observer
"Amazing... incredible... one of 2004's must have albums!" - Other Music
"Gloriously innovative... a masterpiece" - The Telegraph
"Beautifully evocative... Stunning" **** - Uncut
"Breathtaking... Amazing... Essential purchase." - Boomkat
4/5 "A living breathing teen-aged musical prodigy... Every song a borderline classic." - Junkmedia
"Album of the year material. Most highly recommended." - Dot
"His touch is almost entirely unerring and this is an album of quite irresistable beauty. Grab this now, while its notions are still a little startling." - The Wire
Khonnor, the 17-year-old US-based wonderboy, first came to the attention of many through his cult internet-only EP releases as "Grandma" and "I, Cactus". With this, his long-awaited debut album "Handwriting", two years in the making, he has produced a record which is sure to bring an important new voice to the emerging "indietronica" movement.
Taking influence from Jim 'O Rourke, Fennesz, Sonic Youth, The Smiths and David Sylvian, 'Handwriting' shows both reverie and intense originality. Khonnor manages to make music with a rare endearing naivity which combines a dark sense of humour with a keen uncynical eye. Everyone has been through similar experiences, but Khonnor documents his with startling originality and finesse.
Dreamlike digitally manipulated guitar noise and wavering synths form the foundation for most of the tracks, complimented by Khonnor's frank and open lyrics throughout, breathing life into his tracks with an ease and unforgettable beauty as he charts the ups and downs of teenage love, pocket change and lost hazy nights.
After releasing his first EP at only fifteen years of age, Connor Kirby-Long had an early start to the music scene. What resulted from his early experimentations was an exceptionally original and unrestrained mixture of guitar strumming, twisted lyrics and abrasive electronic noise.
Using only an old PC, a microphone from a 'Learn Japanese' boxset and a single low quality PC speaker, Connor Kirby-Long had created something fresh and original, and will be sure to give the sometimes tired electronic scene a much needed adrenaline boost.
Not long after this he embarked on 'Handwriting' which slowly began to take hold of his life. Connor put his heart and soul into his music, often to the detriment of his everyday life. After nearly getting thrown out of school on numerous occasions, narrowly escaping rehab, appearing in county court and eventually graduating, the now seventeen year old used this album as a marker pen to sign a release form on his teenage years.
In a year when electronic music has been striving to make the ever-elusive leap into pop, where indie-electronic albums are no longer an oddity, Khonnor's music has something different. The punk rock attitude, the fresh and heartfelt emotion, the unhidden fragility and anticlimaxes of adolescence. This seventeen year old from Vermont, in his debut album has compiled something so personal and original that many would fail to achieve in a lifetime.
Khonnor

:

Handwriting

Man From The Anthill

Khonnor

3' 29''

Daylight And Delight

Khonnor

3' 03''

Magan's Present

Khonnor

4' 05''

Crapstone

Khonnor

3' 37''

A Little Secret

Khonnor

3' 57''

An Ape Is Loose

Khonnor

3' 48''

Phone Calls From You

Khonnor

3' 56''

The Stoned Night

Khonnor

3' 32''

Screen Love, Space, And The Time Man

Khonnor

3' 34''

I Was Everything You Wanted Until You Quit

Khonnor

1' 22''

Tattletalent (Encore)

Khonnor

2' 02''
Nice as well: