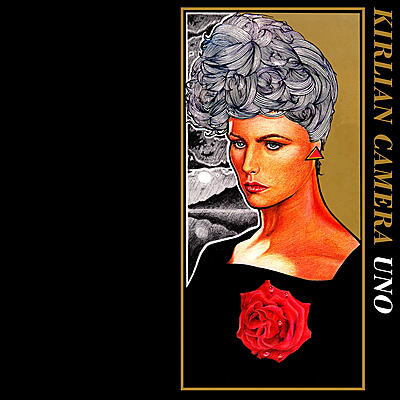 LP+7": Incl. Bonus Flexi-Disc 7" & 2-sided postcard
Dark Entries release "Uno", a collection of early recordings from seminal Italian electronic act Kirlian Camera. Keyboardist/vocalist Angelo Bergamini founded the project in Parma in 1979, initially naming it Suicide Commando, before discovering another project using the same name. By 1980, Angelo had recruited singer Simona Buja, keyboardist Fabrizio Chiari and bassist Mauro Montacchini. Their demo cassette, "Dawn", attracted the attention of Italian Records, a popular independent label. The following year, Mauro left the band and was replaced by Giorgio Vecchi, and the band recorded their first mini-LP, "Kirlian Camera". "Uno" compiles the 4 songs from the mini-LP on Side A and the 6 songs from the demo cassette on Side B. Also included is the bonus track "Minitech", originally released in 1981 on flexi-disc. Kirlian Camera's clean, minimalist new wave is marked by strong haunting melodies, slow moving synth washes, and stark, dramatic vocals.

All songs are remastered for vinyl by George Horn at Fantasy Studios in Berkeley. Housed in the original jacket featuring a painting of a royal Italian noble on the front and black and white photos of the band on the back. Each copy includes a 2-sided postcard with a never before seen photo of Angelo and Simona taken from an early concert.
Kirlian Camera

:

Uno

News

Kirlian Camera

1' 30''

No One Notices Them

Kirlian Camera

1' 31''

Rays

Kirlian Camera

1' 30''

Autumn Room

Kirlian Camera

1' 30''

Last Lights Near The Highway

Kirlian Camera

1' 30''

News

(Embryo)

Kirlian Camera

1' 30''

Myths

Kirlian Camera

1' 30''

Unknown

Kirlian Camera

1' 30''

For A Different Moment

Kirlian Camera

1' 30''

Observers

Kirlian Camera

1' 30''

Minitech

Kirlian Camera

1' 31''
Nice as well: