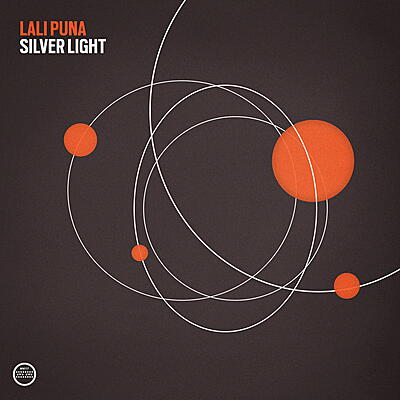 Incl. Instant Download
When Lali Puna released "Our Inventions" back in 2010, it was a long overdue return for the band; in fact, more than half a decade elapsed between the current LP and its predecessor. However, the Munich-based foursome now seems to want to make up for that, dropping this new EP in early 2012, at a point when "Our Inventions" is still lingering in the air. It's an afterburner of sorts, a remix addendum, an early continuation fittingly entitled "Silver Light".
Before singer Valerie Trebeljahr and her band mates officially hand over the original recordings, they set the tone with a beautifully rendered cover song: Lali Puna's take on Mort Garson's "I've Been Over The Rainbow", originally released on the LP "The Wozard Of Iz" (1968), a dark parody of the original "Wizard", sounds both forsaken and strangely welcoming as they venture deeper and deeper into the void that is to be found at the very core of this track. With this choice Lali Puna not only pay homage to the late-great moog master who died in 2008, but also present a song that works as a stunningly ruminative prelude to "Silver Light".
It's obviously dark now, and the night is upon us: Cornelius' remix of "Hostile To Me" washes over the listener like a beautiful lullaby, it's soundscapes shimmering at sundown or night-fall, moments that do not sound hostile at all; instead, by combining multiple vocal parts Keigo Oyamada ultimately even manages to lift this track to almost ethereal heights – obviously something Lali Puna would never dare themselves. Since "Our Inventions" was heavily concerned with the downsides of progress, and posing questions about our constant need to stimulate growth, it's a logical step to present Trebeljahr's lyrics (such as "destroy this place") in this downshifted way. "Leave your signs on the wall", she sings, but these are signs that are no longer tangible; it's nothing but a last flicker in the darkness surrounding us.
In Los Angeles it doesn't really get that dark; only in the hills, a place a certain Will Wiesenfeld aka Baths calls home. This Will not only has some amazing sideburns, but he's also the perfect guy to deliver a remix of a track like "Move On": Baths will always turn the original into something with a lot of oomph, even if it's just to get things moving in his hometown, the capital of heavy traffic and congestion. However, Baths and his whooshing, brainfeeding approach as a producer are not an unlikely choice for "Silver Light" – after all he's an artist hailing from the anticon. camp, and by now it's almost a tradition to collaborate with musicians from Munich or Weilheim.
Finally, hailing from the same camp, there's Odd Nosdam, who just recently collaborated with Saroos: "Safe Tomorrow" done Nosdam style is another massive, broad expanse of sound; it's a new take with more internal pressure, even though ultimately, after more than six and a half minutes, he follows Trebeljahr's request to please "try to make it home by night". And it's true: Nighttime is certainly the best time of day to enjoy the silvery glow of this EP.
Lali Puna

:

Silver Light

I've Been Over The Rainbow

Lali Puna

3' 56''

Hostile To Me

(Cornelius Remix)

Lali Puna

3' 48''

Move On

(Bath Remix)

Lali Puna

4' 19''

Safe Tomorrow

(Odd Nosdam Remix)

Lali Puna

6' 33''
Nice as well: