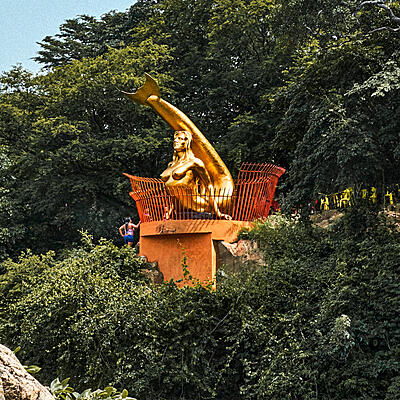 Lamin Fofana
Brancusi Sculpting Beyonce
Hundebiss
H034
In the face of devastating violence, how are you responding?

The music here is my response to surviving these traumatic and unpredictable times. Most of the new sounds came out of the experience of living and traveling around Europe. As a black African existing and moving in predominantly white spaces, you are under continuous scrutiny and harassment. White supremacy and racism have a certain gradation of intimate terrorism, and the darker your skin the more endangered you are.

"Brâncuși sculpting Beyoncé in gold lamé" is a line from Mike Ladd's song "Blonde Negress" from the album Negrophilia. The album was inspired by Petrine Archer-Straw's book of the same name (with the subtitle "Avant-Garde Paris and Black Culture in the 1920s").
The book explores the Paris art world's embrace of black American and African culture — and its co-option of black art and culture, which played heavily into Art Deco, Cubism, jazz, etc. I read the book some years back, but I love how Mike Ladd warps it, drawing a long line between Beyonce and Brancusi, whose Sleeping Muse was inspired by African masks.
Lamin Fofana

:

Brancusi Sculpting Beyonce

Searching for Memory

Lamin Fofana

4' 42''

Confrontation

Lamin Fofana

3' 33''

Brancusi Sculpting Beyonce

Lamin Fofana

4' 14''

Raffia Arms

Lamin Fofana

3' 53''

Unknown Riddim

Lamin Fofana

6' 01''

The Black God Cries Sometimes Too

Lamin Fofana

2' 33''
Nice as well: