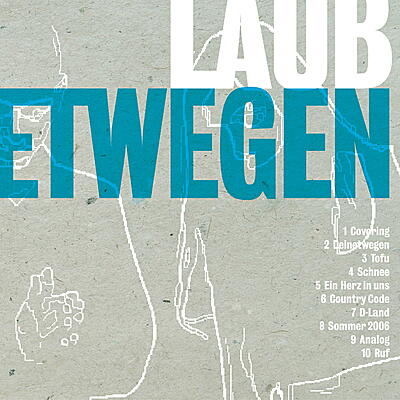 Incl. Instant Download
Laub are AGF aka Antye Greie and Jotka aka Jürgen Kühn and Deinetwegen is their fifth studio album.
Their last album has been Filesharing, released in 2002 on Kitty Yo. Five years after and Laub were still frontin, showing the world of music what a german post techno band can do.
They carried the blues, the dust, the moody stories and the complicated arrangements in songs written in a very slow pace, between traveling, business and pauses.
Deinetwegen, a 21st century post techno version of blues:
The Blues came overnight, after another long day spent on computers, forums, world wide web... it came in form of John Lee Hooker and Muddy Waters, clear, simple, reduced, honest... and suddenly all this seemed to be missing in the sound they were witnessing and trying to translate into music. So it became an option to learn through that and develop an own interpretation of white german 21st century Blues.
No sampling of old records but rather studying the old material and write own songs based on the experienced. Writing lyrics about the days happening and the things observed not in the cotton field but right there in the Multi Media offices of Berlin Prenzlauer Berg.
The title song of album is the key song, most Laub trademark vocals as well as pop reference versus refusal to function like pop are there. The song is not only a love song to the ones they do love in their real lives its also a devotion to the blues.
Laub

:

Deinetwegen

Ein Herz in uns

Laub

3' 41''

Country Code

Laub

4' 52''
Nice as well: