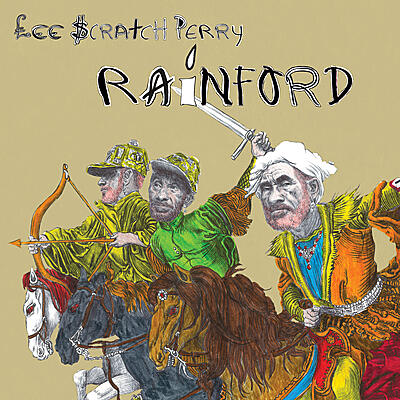 The mighty upsetter returns with 9 brand new tracks recorded with longtime friend and collaborator Adrian Sherwood at the controls.

"It's the most intimate album Lee has ever made, but at the same time the musical ideas are very fresh. I'm extremely proud of what we've come up as a piece of work". - A.M.S

Without hyperbole, Perry is a musical titan with few equals, the man Brian Eno has called "one of the geniuses of recorded music", a massively influential producer and serial collaborator with everyone from The Congos to The Clash, Junior Murvin to The Beastie Boys. In terms of innovation, breadth and depth of catalogue, being the mastermind of his own musical universe, and someone who is equally comfortable in the engine room or as eccentric frontman, then perhaps only Sun Ra in the jazz world stands up as a reasonable comparison.

His friendship with Adrian Sherwood stretches back to the mid-1980s, and a fortuitous meeting brokered by underground broadcasting legend Steve Barker. This led to the creation of On-U classics such as Time Boom X De Devil Dead and The Mighty Upsetter, as well as Lee gracing Dub Syndicate records with some vital vocal injections. This new set is the culmination of over two years work and recording sessions that span Jamaica, Brazil and the UK. Determined to craft a work of lasting power, Sherwood likens to the album to the work that Rick Rubin did with Johnny Cash on the American Recordings series, a deeply personal work (tha album title refers to Lee's birth name) and arguably the strongest batch of original material that Perry has released for many years.

From the atmospheric field recording and wah-wah guitar of album opener "Cricket On The Moon", to the gothic cello embellishment on "Let It Rain", the chopped-and-compressed horn section of "Makumba Rock", to the layered, carefully arranged backing vocals like a heavenly chorus throughout the record, this is an album with true love, care and attention poured into it's every groove. It culminates in the truly extraordinary "Autobiography Of The Upsetter", in which Scratch narrates the story of his life from growing up on a plantation in 1930s colonial Jamaica to becoming a worldwide musical superstar.
Lee 'Scratch' Perry

:

Rainford

Cricket on the Moon

Lee 'Scratch' Perry

2' 00''

Run Evil Spirit

Lee 'Scratch' Perry

2' 00''

Let it Rain

Lee 'Scratch' Perry

2' 00''

House Of Angels

Lee 'Scratch' Perry

2' 00''

Makumba Rock

Lee 'Scratch' Perry

2' 00''

African Starship

Lee 'Scratch' Perry

2' 00''

Kill Them Dreams Money Worshippers

Lee 'Scratch' Perry

2' 00''

Children Of The Light

Lee 'Scratch' Perry

2' 00''

Autobiography Of The Upsetter

Lee 'Scratch' Perry

2' 00''
Nice as well: