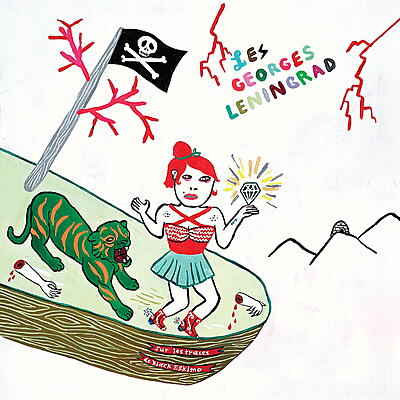 Sur Les Traces De Black Eskimo
Tomlab
Tom053
"When the qallunaaq Black Eskimo decided to leave the petrochemical ironclad Les Georges Leningrad stuck in the ice, he didn't doubt that he would disappear in a way never before seen on television. On this album, Poney, Bobo and Mingo present him with disconcerting homage of rare and sadistic music resonating from the purebred lineage of petrochemical rock."

Mit "Sur Les Traces De Black Eskimo", ihrem zweiten Album (und Debut auf Tomlab), bricht Montreals derzeit umtriebigstes Trio, Les Georges Leningrad, die Stille und wagt den Weg aus dem ewigen Eis. Bewaffnet mit einem gefährlichen Hybrid aus No Wave, Post Punk, Noisy-Improv und Giorgio Moroder liefern sie einen eigenartigen Sound, der auch weit ausserhalb von Grönland für Furore sorgen wird.

Les Georges Leningrad sind - Pony P, die mit ihrer seltsam misstönenden, jedoch bestechenden Stimme die Führung übernimmt und bei den Live Shows mit einer geradezu magnetischen Präsenz überzeugt - Mingo L`Indien, der die Verantwortung für diverse elektronische Gadgets sowie die schneidenden Gitarren übernimmt und Bobo Boutin, der maskierte Wahnsinnige, der sein Drumkit mit seinem präzisen und ungewöhnlichen Stil buchstäblich zerlegt und auch die Background Vocals liefert.

Mit als Sperspitze getarnten Hits wie Sponsorships, Black Eskimo, Pekin Pekin oder Supa Doopa (erscheint im Mai als 12" mit Remixen von Akufen und Magas auf Troubleman Unlimited) gehen Les Georges Leningrad auf uns los. Wir sollten uns also in acht nehmen, die Gefahr lockt eben doch.

Les Georges Leningrad waren mit Bands wie Erase Errata, The Gossip, Le Tigre, Locust, Trans Am und The Unicorns auf Tour. Letztes Jahr haben sie Sonic Youth Tour bei Ihrer US-Tour supported. Im Sommer kommen sie nach Europa und spielen neben mehreren Festivals (zB. Primavera) auch sehr viele Club- Shows in Frankreich, Deutschland, England sowie Skandinavien.
Les Georges Leningrad

:

Sur Les Traces De Black Eskimo

Missing Gary

Les Georges Leningrad

4' 28''

Sponsorship

Les Georges Leningrad

3' 15''

Black Eskimo

Les Georges Leningrad

3' 06''

Nebraska´s Valentine

Les Georges Leningrad

3' 26''

Umiarjuaq

Les Georges Leningrad

2' 24''

Wunderkind #2

Les Georges Leningrad

2' 27''

Supa Doopa

Les Georges Leningrad

3' 48''

St-mary´s Memorial Hall

Les Georges Leningrad

4' 00''

Pekin Pekin

Les Georges Leningrad

2' 40''

Richard

Les Georges Leningrad

56''

Fifi F.

Les Georges Leningrad

3' 21''

Comment Te Dire Adieu

Les Georges Leningrad

4' 00''
Nice as well: