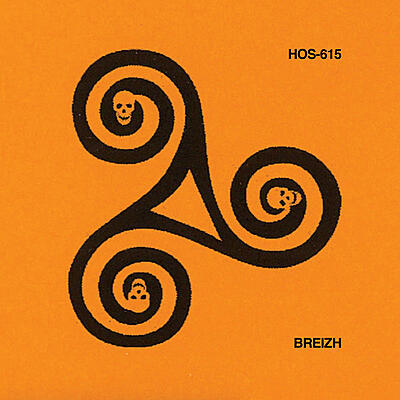 CD: Slimline jewel case CD edition of 500
Low Jack hustles a clutch of mutant industrial dancehall edits for Hospital Productions. 'Breizh' on the most immediate level is a heavyweight bag of riddims bending industrial sounds into the dancehall template - airhorns and vibes replete - while on another level it's posited as a comment on the "sociapolitical contradictions and passions" of his home region, the Celtic region of Brittany in North West France, which is reflected thru the cryptic cover art of Celtic glyphs and, perhaps more subtly, in the music's short-circuiting of cultural dogma.

All cut from live recordings, the five tracks serve ammo to the discerning DJ, ranging from stormy dancehall dread in 'Robert (Le Bourg Version)' and woozy reversed loops in 'They Rule (Cap-Sizun Remix)', thru to absolute dancefloor wreckers in the cyborg bogle of 'Plogo (Live Edit)', a bombed out flip of Richard Brown's late '90s ace 'Baddis Riddim', and a mental, recklessly sped-up 'Tempo Riddim'.
Low Jack

:

Breizh

Robert

(Le Bourg version)

Low Jack

2' 00''

They Rule

(Cap-Sizun remix)

Low Jack

2' 00''

Plogo

(live edit)

Low Jack

2' 00''

Baddis Riddim/Nukleel

(BZH edit/live edit)

Low Jack

2' 00''

Tempo Riddim

(Lasers edit)

Low Jack

2' 00''
Nice as well: