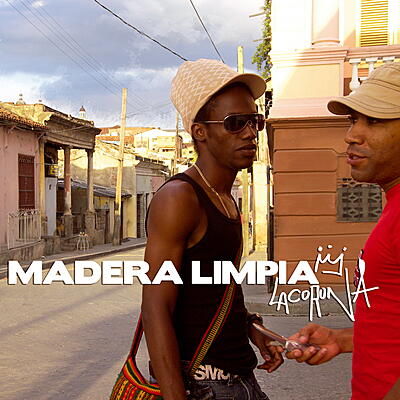 Incl. Instant Download
Guantánamo is a small town in the southeast of Cuba. Tourists are rarely seen there. There are no sights or attractions, no beautiful beaches - the beaches, about 13 miles from the town, are under US control and the location of the military base of Guantánamo Bay. The old Spanish colonial style houses are decaying, and the mood is almost Oriental. Time seems to stand still: hopes melt in the afternoon heat, the country's turbulent past is hidden underneath a long shadow. Communication with the outside world is difficult; those with aspirations for a better life try their fortunes in Havana - or they go to Miami or Europe, never to return.
This is the home of Yasel and Gerald the driving forces of Madera Limpia. "My rap is an expression of what young people feel in Cuba", explains Yasel, "what they live, what happens everyday." Madera Limpia talk about it all. The song Tirando con la cara is about guys from the countryside who go to Havana ending up as prostitutes. Back home they pretend they live in fancy mansions when they sleep in a dump. The dark Boca floja has them adressing a very cuban subject, people spying in every neighbourhood, provoking dangerous conversations and reporting everything to the police for their own benefit. Yasel and Gerald get their inspiration from daily life. En la esquina tells the never ending story about the constant rush for status symbols in order to cover up poverty. In Danza mulata they talk about their own experiences abroad and the emigrants they met in Europe and their longing for home. Above all though La Corona with its globalized rhythms celebrates life, and is about not loosing ones dignity.
The musical language Madera Limpia use, transforms a love for Cuban music into a globalized youth culture. Heavy percussion meets the melancholic tres patterns of El Puro, an occasional tuba takes over the bass part (La lenta) and above all you have Yasel and Gerald flowing effortlessly between rap, reggae/dancehall or rootsy changui. "Rap and reggae work against the beat", explains Gerald, "this has a lot to do with the changui. I try to mix both in one rhythm, because what changui lacks, hip-hop has it." Gerald and Yasel have fought hard for their new album La Corona. They found people who believed in them like Alina Teodorescu, a Romanian filmmaker - now based in Munich - that made the documentary Paraiso, a kind of roadmovie on their life in Guantanamo and produced their new album. And they worked hard on creating their characteristic blend of local accoustic traditions and urban latino youth culture. The result La Corona shows that post-Buena Vista Cuba is alive and kicking and is ready to make you dance while being firmly rooted in the traditions of Cuban music.
Guantánamo in 2008 is part of a burnt-out Cuba, full of fears for the future and of hopes from a distant past. Yet, even after two European tours, Yasel and Gerald are still - in fact more than ever and with a new sense of awareness - inspired by the life on the streets of their home town. Their conclusion is surprising: stay calm and don't loose your dignity. Fight for the crown (La corona) of values and truth; and guard this crown.
Madera Limpia view life in Cuba in these times of radical change as a challenge, just like they suggest in their last song which is full of premonition: "And if everything goes wrong, it's not because life came to an end, it is time for a new departure, lift up and keep walking ..." (El ruego).
Madera Limpia

:

La Corona

En La Esquina

Madera Limpia

3' 04''

Loco

Madera Limpia

4' 20''

Perro Que Ladra

Madera Limpia

3' 24''

La Lenta

Madera Limpia

4' 10''

Boca Floja

Madera Limpia

4' 11''

No Ni No

Madera Limpia

4' 03''

Tu Papa

Madera Limpia

2' 59''

Salsa

Madera Limpia

3' 59''

Tirando Con La Cara

Madera Limpia

3' 34''

La Corona

Madera Limpia

4' 06''

Mente

Madera Limpia

1' 35''

Danza Mulata

Madera Limpia

4' 14''

El Ruego

Madera Limpia

2' 44''

Todavia En La Esquina

Madera Limpia

52''

Verdad Global

(Bonus Track)

Madera Limpia

2' 52''
Nice as well: