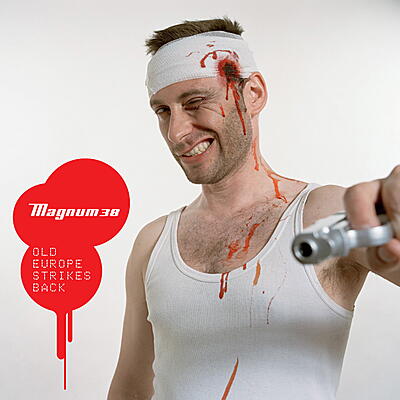 Incl. Instant Download
Oliver Greschke alias Magnum 38 - Europe's smartest weapon - is back with a monstrous album! After the release of his hit single "Disco Toni" (coproduced by T.raumschmiere and remixed by Motor) Old Europe strikes back is an invitation to everybody to take part in the pleasure and pain of Magnum 38's everyday life: weird electronics, glam pop, dancefloor hysteria, elevated moments and a high risk of self destruction all combine to some graceful electronic noir crumbled, smashed and all mixed up again. Based upon his powerful gnarzy breakbeats and the weird noises that typically vitalize his productions, Magnum 38 reveals some new and unexpected sides of himself: spheric soundscapes (Altitude 3600 feet, Frankfurter Tor), hysteric disco-ravesounds and poppy smash hits (Disco Toni, More) - Magnum 38 in full effect!

Old Europe strikes back is not a concept album but the result of Oliver Greschke's investigation in energies and subcultures all around the globe. Magnum 38 – who has been part of the shitkatapult label family right from the beginning - sucks up these energies like a black hole, searching for inspiration, selecting them, cutting them into smallest pieces and recompiling them to his very own vision of electronic music. Hypes? No way! Magnum 38 goes his way. Living here and now. Everybody who has seen him play live will know to tell!
Magnum38

:

Old Europe Strikes Back

Disko Toni

(feat. C Vidic)

Magnum38

4' 08''

Pille Palle

Magnum38

4' 37''

Altitude 36500 Feet

Magnum38

1' 02''

Volle Kraft Voraus

Magnum38

4' 23''

Die Macht Der Musik Bei Nacht

Magnum38

5' 18''

Frankfurter Tor

Magnum38

4' 17''

More

(feat. Randy Twigg)

Magnum38

4' 50''

Testosteron-Überproduktion

Magnum38

3' 35''

Schiebung

Magnum38

3' 58''

Old Europe Strikes Back

Magnum38

10' 34''
Nice as well: