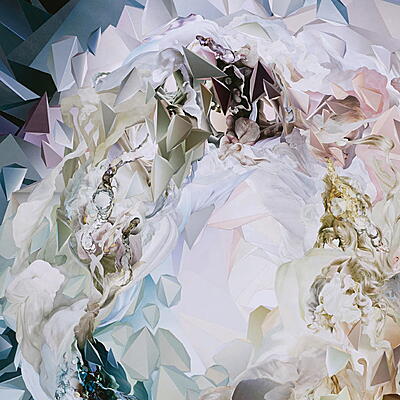 Incl. Instant Download
While having been formed years apart, in disparate locations and under different circumstances the worlds of Mamiffer and House of Low Culture have drawn increas-ingly closer over time. Now sharing core members (Faith Coloccia and Aaron Turner), physical proximity (Seattle area in WA State) and intimate creative information, it seems only fitting that the two should be paired together for a split album. Originally released in a limited run of CDs by Utech Records, the couple behind the aforementioned groups have further conspired to produce the album on the vinyl format via their own SIGE Records imprint.

Mamiffer's contribution to this fateful convergence of people and sounds comes in the form of a 13 minute dirge entitled "Uncrossing". A skeletal piano figure opens the piece, and though melodically inviting its edges are tinged with an undeniable sadness which becomes ever more urgent through successive repetitions, finally leaving the listener with little else than an ominous boom to cling to. From here wisps and whirs of undefined sound-ghosts are heard, increasing in intensity throughout the track culminating in a rapturous funereal roar replete with distorted organ drones large enough to topple steeples. Though this might seem like a forgiving end point, the journey isn't over until the listener is once again stranded in the wake of pulsing cavern drums.

On the flipside House of Low Culture visits a barren world populated only with whispers of the past, the drones of long dead towns and the heaving blasts of an upset sky. Though traditional instrumentation of guitar, piano, voice and drums are utilized here, the players present (Turner and Coloccia joined by legendary percussionist Z'ev), twist their sounds in such a way as to make them unrecognizable, or at least otherworldly. With black-ened blasts of downtuned guitar, subdued passages of midnight doom jazz and haunting vocal harmonies, the realm of the "Ice Mole" is at once oddly inviting and unsettling in its ability to envelop those that journey through its frosty climes.
Mamiffer / House Of Low Culture

:

Uncrossing / Ice Mole

Uncrossing

Mamiffer

12'36''

Ice Mole

House Of Low Culture

21'01''
Nice as well: