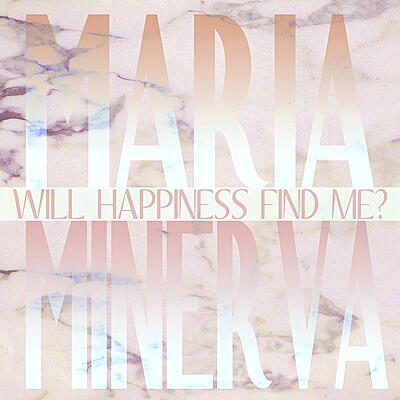 Maria Minerva
Will Happiness Find Me?
Not Not Fun
NNF 269
Last November, Maria Minerva accepted the invitation of a close friend to flee the grey brainwash of yet another East London winter for a temporary retreat amid the seaside serenities of Lisbon. The life oasis of the experience freed her up to hibernate with lyrics, loops, echo pedals and emotions, and she holed up at an empty exhibition space nearby to craft the eleven mercurial mysteries that comprise her brave sophomore color wheel, Will Happiness Find Me?

An impressively individualist mix-tape channeling the 360º spectrum of Minerva's diverse obsessions, Will Happiness Find Me? connects the avant-pop dots between future-shock pirate radio singles, hermetic tone studies, late-night wanderlust lullabies, tape-faded club dee-lights, sampladelic vocal exploratoriums, private-press art pranks and even ambient hip-hop melancholia. Given that most contempo aesthetic arcs ebb from the raw and odd to the polished and accessible, it's rad and uplifting to hear Minerva swimming so soulfully the other direction. "My heart is like a microphone / Just talk into it." Never give up.
Maria Minerva

:

Will Happiness Find Me?

The Sound

Maria Minerva

3' 53''

Heart Like A Microphone

Maria Minerva

3' 50''

I Don't Wanna Be Discovered (Will

Maria Minerva

3' 49''

Alone In Amsterdam

Maria Minerva

3' 36''

Sweet Synergy

Maria Minerva

3' 40''

Fire

(Featuring Chase Royal)

Maria Minerva

3' 02''

Coming Of Age

Maria Minerva

4' 42''

Perpetual Motion Machine

Maria Minerva

3' 38''

Never Give Up

Maria Minerva

6' 50''

Mad Girl's Love Song

Maria Minerva

4' 51''

The Star

Maria Minerva

2' 39''
Nice as well: