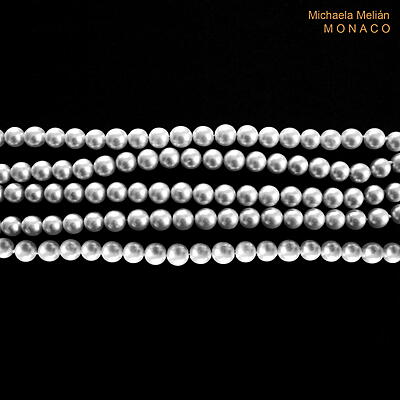 Incl. Instant Download
Following her previous two long players, Baden-Baden and Los Angeles on monika enterprise, F.S.K. bassist Michaela Melián now continues the theme of geographically titled albums with a record dedicated to the Mediterranean principality of Monaco. Again the record is rich in hypnotically woven sounds with a resolute mood reminiscent of film music and draws on Melián's work in the fine arts and her acclaimed radio plays as well as her experience in the music scene.
In keeping with the previous two albums, the instrumentation is made up of largely classical acoustic instruments which are layered in loops to create mesmerizing sound scapes. In addition to the traditional instruments such as Violoncello, Spanish and Electric Guitar and Banjo all played by Melián herself, the album also features synthesizer and even a Mellophonium played by guest instrumentalist Ching Ying Hsieh. Once again Michaela has been assisted on the production by fellow Freiwillige Selbstkontrolle band member namely Carl Oesterhelt. And as with her former albums on monika, Baden-Baden and Los Angeles which both featured Roxy Music covers, Melián plays tribute to a musical hero – this time David Bowie, in the form of a cover song with her version of Scary Monsters. This rendition at the end of side one is the only lyrical relief on an otherwise instrumental album.
For the most part the compositions explore the realm of sound art and ambience and are deeply drifting pieces with a dark and melancholy beauty. Some of the tracks on Monaco, Promenadeplatz for example, came about as a result of Melián's public art project Memory Loops (Grimme Award 2012). Other tunes were conceived as accompanying installation pieces for Michaela's many exhibitions as a visual artist. It's no wonder then that Melián should also pay impeccable attention to detail as far as the cover art goes. And the minimalist sleeve design does perfect justice to the music held therein. What better than a simple chain of pearls to represent Monaco? This is after all just a pearl of an album!
The music is atmospheric, brooding and contemplative. Such are the conceptual similarities between this an Melián's previous two albums on monika that this could easily be seen as sides 5 and 6 of a triple album. In any case Monaco now takes its place along with the earlier LPs to form a powerful trilogy. Anyone who enjoyed Baden-Baden and Los Angeles is guaranteed to love Monaco too. Just sit back and let the music transport you to the French Riviera.
Michaela Melián

:

Monaco

Delta Of Venus

Michaela Melián

6' 10''

Place Stalingrad

Michaela Melián

5' 59''

Reprise

Michaela Melián

1' 42''

Scary Monsters

Michaela Melián

5' 36''

Promenadeplatz

Michaela Melián

5' 55''

Remise

Michaela Melián

1' 33''

Chemin Du Signal

Michaela Melián

3' 23''

Geometrie Der Liebe

Michaela Melián

3' 42''

Jardin Exotique

Michaela Melián

6' 12''
Nice as well: