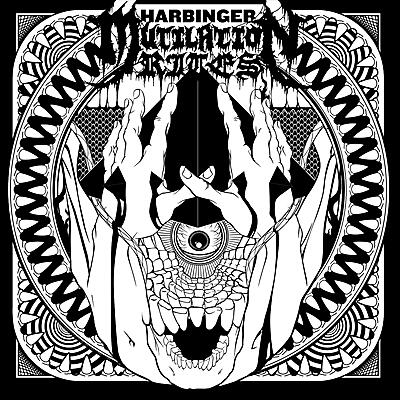 LP: Includes download, white vinyl, gatefold sleeve
2014 saw the release of the second full-length from Brooklyn's MUTILATION RITES. Although originally released Prosthetic Records, HARBINGER has now been re-pressed by the band themselves as a gatefold LP. As long-time friends of ours, Gilead Media is helping them with distribution on this repress.

Following their highly praised first LP, Empyrean, Mutilation Rites return with an album that pushes their style of filthy black metal further into the shadows with Harbinger. Along with the addition of bassist Ryan Jones (assisting with vocal duties) there also comes a noticeable death metal element to the songs on the album. Everything here is grosser, chunkier, and trashier than anything they've done before.
Mutilation Rites

:

Harbinger

Black Pyramid

Mutilation Rites

7' 09''

Exhaling or Breathing In

Mutilation Rites

5' 31''

Tactical Means of Ouroboros

Mutilation Rites

5' 20''

Gravitational Collapse

Mutilation Rites

4' 07''

Contaminate

Mutilation Rites

4' 24''

Suffer the Children

Mutilation Rites

5' 59''

Ignus Fatuus

Mutilation Rites

6' 24''

Conspiracy of Silence

Mutilation Rites

4' 37''
Nice as well: