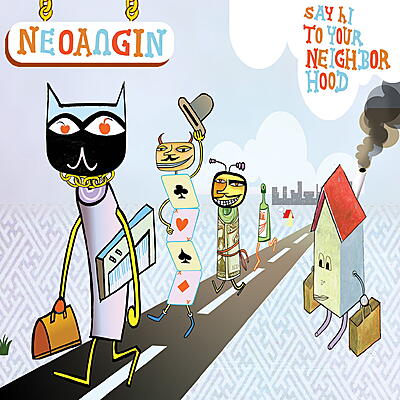 Neoangin
Say Hi To Your Neighborhood
Neoangin
Neo04
Incl. Instant Download
What musical label can we slap onto Neoangin? It's not Avignon's cup of tea to choose a musical side. The artist considers himself more of a passionate chronicler and co-creator of our ever evolving pop culture. Taking elements from bubblegum-singalongs, DIY disco, playful electronic music, obscure New Wave sounds, wondrous
keyboard meldodies and screeching guitars Avignon pieces them together into smashing pop songs—all without ever losing one ounce of lo-fi charm. You cannot resist these accessible melodies and harmonies. A few years ago Avignon decided that he felt most comfortable shuttling back and forth between New York and Berlin—
had he chosen to relocate in London instead, who knows, he would have become one of the purveyors of the currently hip "Wonky Pop."
"Say Hi To Your Neighborhood" is Neoangin album number nine. The pop miniatures from the previous albums have grown up into real pop hymns. The songs talk of minor and major dramas, they are blurbs from the "middle class hell." Avignon turns Melville's refusenik Bartleby into a song, in "No More Egotrippin" he calls off the
friendship to all career oriented friends, and in "Big Bailout Burlesque" he sings about the comical side of the current economic crisis.
The album was produced by Chris Imler and mixed and recorded by Norman Nitzsche (who most recently manned the mixing board for The Whitest Boy Alive's new album) in Masha Qrella's Villa Kurella in Berlin. Jens Friebe donated his guitar skills, producer Imler played drums on some of the songs and in "Small Talk World" Avignon sings a wonderful duet with Kim Boekbinder. The familiar keyboard sounds and Jim's unmistakable voice are offset by a 1970s era Omnichord that was bought on ebay and a Kaossilator that was purchased on
the black market in Russia. As one would expect from Neoagnin the design of the cover and booklet are both elaborate and charming. Renowned animator Alex Budovsky, who recently won an award for best animated video at the Sundance Festival, made Jim's characters come to life in the video
for "Middle Class Hell" in a more than congenial way. For the "Melancholy Pays My Rent" video JIm and his colleague Jon Burgerman (together they founded the performance duo Anxieteam) snuck into New York's famous Waldorf Astoria Hotel and filmed a pillow fight.
Neoangin

:

Say Hi To Your Neighborhood

Hopeless Bone

Neoangin

2' 29''

Middle Class Hell

Neoangin

2' 58''

Bartleby

Neoangin

2' 51''

No More Egotrippin

Neoangin

2' 58''

Time Don't Move

Neoangin

2' 23''

The Underdog

Neoangin

3' 23''

The Familytree

Neoangin

1' 28''

Smalltalkworld

Neoangin

3' 27''

Melancholy Pays My Rent

Neoangin

2' 07''

Nature Gives Up

Neoangin

2' 24''

Bailout Burlesque

Neoangin

2' 51''

The Only One I Know

Neoangin

2' 36''

Everybody Has A Life To Lose

Neoangin

3' 52''

One Last Kiss

Neoangin

2' 33''
Nice as well: