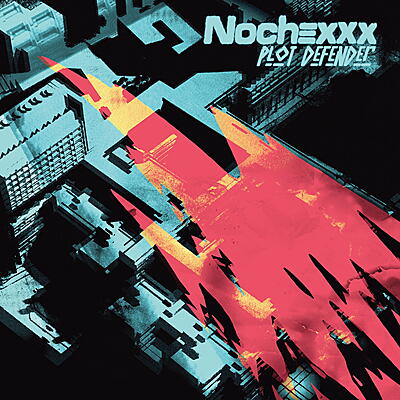 Nochexxx
Plot Defender
TYPE123V
2LP: Ltd. to 500 copies, initial copies on peach and turquoise vinyl
Incl. Instant Download
Dave Henson has been producing electronic music on the fringes of any discernible scene since the late 90s, operating outside of the boundaries of good taste and slowly formulating his own very particular sound.

Since 2010 he's been recording as Nochexxx, and firing the influence of vintage electro and early bleep techno through an arsenal of barely-working gear to result on a sound that's a grubby as Wolf Eyes but with the unmistakable slap of late '80s Detroit.

'Plot Defender' is Henson's third proper album under the Nochexxx moniker, and is his most developed to date, anchored by clattering tape-distorted rhythms and synth squelches that make the TB-303 sound well-mannered.

Whether giving the nod to Incunabula on 'Between Two Stations' or to the masters Drexciya on 'Stinson Fish', Henson's vision is never anything but unique, offering a cracked-glass vision of the last few decades of electronic music and doing so with a very British nod to camera.

Anyone who fell in love with recent transmissions from Ekoplekz would do well to investigate.
Nochexxx

:

Plot Defender

Clipped Butterfly

Nochexxx

5' 25''

Infected People

Nochexxx

4' 27''

Between Two Stations

Nochexxx

4' 24''

Leading Bleeds

Nochexxx

4' 34''

Plot Defender

Nochexxx

4' 25''

Arbury Flowers

Nochexxx

3' 39''

Jungle Crash

Nochexxx

4' 19''

Last Club On Da Left

Nochexxx

5' 42''

Rusted Phoenix

Nochexxx

5' 33''

Coin Collector

Nochexxx

4' 10''

Stinson Fish

Nochexxx

4' 34''

Death Wobbles

Nochexxx

4' 08''

Switch Countach

Nochexxx

5' 07''
Nice as well: