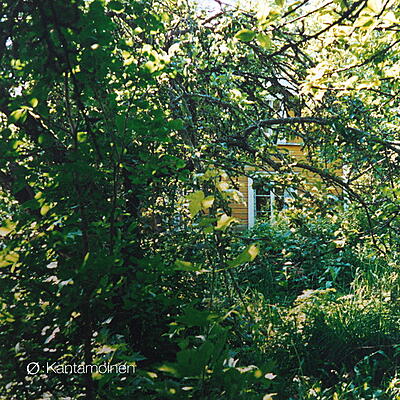 Boomkat Editions present a (slightly reshuffled) vinyl version for one of our favourite Mika Vainio (Pan Sonic) albums; originally recorded between 1999-2004 and issued on CD only under his revered Ø alias for Finland's Sähkö Recordings in 2005.

Kantamoinen is perhaps the most intimately beautiful yet little known LP in the Ø canon, bridging the gap between his classic '90s minimal techno productions - compiled in the vital Metri and Olento collections - and the project's subsequent turn to more ambient, kosmic and dub wise dimensions in the coolly brilliant Oleva and Konstellaatio albums.

Upon original release it was an immediate favourite of ours - a go-to disc for hazy daydreaming and post-club head salvage alike, drifting between iced out instrumental rhythms and chasmic spaces interspersed with moments of indelibly heart-rending melody that have clearly lodged in the memory ever since.

Taking in 16 tracks in just under 50 minutes, it's notable for including a number of exquisitely succinct - or tantalisingly short - glimpses of Vainio at his sweetest,
even sentimental, especially with the breathtaking Tuulessa / In Wind and the frosted harmonies of Talven Henki / Winter Spirit, as well as the rare appearance of vocals (the voice of Oskar Sala recorded by Hans Ulrich Obrist) in the armchair transportation of A¨a¨nikuva / Sound Picture.

Vacillating poignant emotive clarity with forlorn abstraction, this expansion and contraction between deep, wide and relatively longer-form pieces, and a high frequency of shorter, starry-eyed passages, lends the album a more broken, strangely resolved flow than many other Mika Vainio records, and with a twinkling lustre that refocuses the ear with an ancient yet timeless sort of depth perception and atemporal appeal.

It's an often sublime and necessary addition to any collection of classic ambient electronica and a firm reminder of Mika Vainio's full spectrum electronic dominance and purity.
Ø

:

Kantamoinen

Galaksit / Galaxies

Ø

1' 00''

Miekkakala / Swordfish

Ø

2' 00''

Antenni-muurahais / Antenna-ant

Ø

1' 11''

Nakinkengat / Shells

Ø

2' 00''

Aanikuva / Sound Picture

Ø

2' 00''

Kertomus Kaukomailta / Tale From Farawaylands

Ø

1' 33''

Aallonmurtaja / Breakwave

Ø

1' 44''

Talven Henki / Winter Spirit

Ø

2' 00''

Monneista Viimeinen / Last Of Catfishes

Ø

1' 30''

Aurinkokala / Sunfish

Ø

1' 30''

Tuulessa / In Wind

Ø

1' 30''

Kesamaa / Summerland

Ø

2' 00''

Yohalla / Night Frost

Ø

2' 00''

Ensimmainen Valo / First Light

Ø

1' 28''

Kotiin / To Home

Ø

2' 00''
Nice as well: