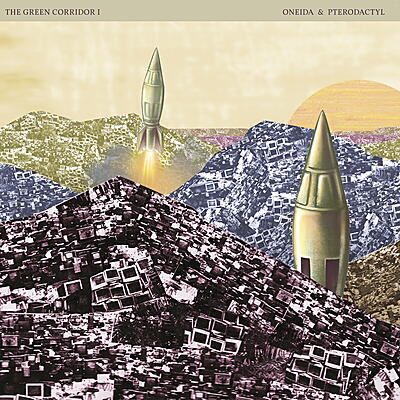 Incl. Instant Download
ONEIDA The Green Corridor 12" Split Series opens up with Oneida contributing two experimental drones matching the idea behind the series exactly - a platform to give the artist the possibility to expose rather experimental approaches to their own sounds.
PTERODACTYL If Pterodactyl's sophomore record, Worldwild, was based on a feeling that struck them while on tour two years ago – a feeling that leaves the lingering notion of being on a family vacation through a colourful new reality – then what could the experience or idea behind Pterodactyl's four songs of this record be? Did they stay in Brooklyn, practice and reminisce over the best parts of hanging out with friends in parks and at gigs, sipping cold drinks on hot summer nights and feel good about themselves, with no worries whatsoever?
The spazzy noise punk has long gone anyway, only present in sound, not composition, while the psychedelic parts are far more lose, warm and unmistakably rural in an urban way. They've tried hard before, now they go for confident and perfectly executed mind-bending bliss with just enough hints of harshness.
These Songs might be based on experiences or ideas like the aforementioned Worldwild, but who knows? It feels more like it comes from a created space of experiences within themselves, where good, clean fun never grew up. A place that offers so much more than a tour trip out of town or a rollercoaster ride.
Oneida / Pterodactyl

:

The Green Corridor Series #01

T.S.M.T.J.

Oneida

9' 04''

I See You

Pterodactyl

4' 30''

The Neverenders

Pterodactyl

5' 05''

Behind the Green Car Door

Pterodactyl

1' 03''

One With Everyone (DE Surf)

Pterodactyl

4' 12''
Nice as well: