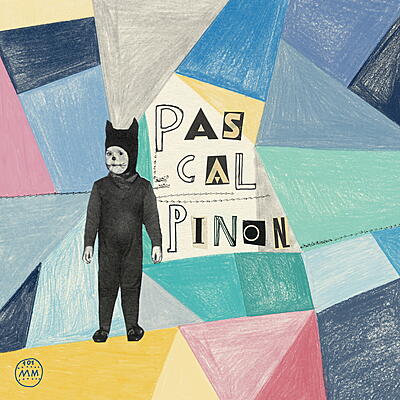 Incl. Instant Download
Age is just a number? Well, certainly not in this case: Listening to "Pascal Pinon," the band's eponymous debut album, the fact that you're dealing with a bunch of 16-year-old teenage girls is way too evident and in-your-face to merely dismiss it as some kind of "additional cuteness". Yet, the songs presented by Icelandic twin sisters Jófrídur and Ásthildur and their band mates Halla and Kristín are certainly that: they're cute. Very much so. Cute and sweet and steaming-hot like those muffins they served at their first-ever live performance, aptly titled "The Friendly Gig". Somewhat strange though that some people have already complained about the foursome not smiling enough on stage. Could that mean it's not all about "cuteness" for them?
Since the name Pascal Pinon refers to a two-headed freak show "celebrity" who died in 1929 (and whose second head was really just a tumor modeled to look like a cranium by means of a wax enhancement), one might expect some rather disturbed DIY compositions – especially given that this band is two-headed as well (the twin thing). Yet, these young ladies instead focus on altogether different facets of life: Like a latter-day Thoreau (in "Walden"), Jófrídur praises the beauty of nature in the opening track, which translates to "Under Clear Sky", comprised of three beautiful chords and some poetic lines she composed when she was 13. Elsewhere, the four girls pay homage to Icelandic poet Davíd Stefánsson (1895-1964), or set rather expected (Harry Potter) and unexpected ("thin walls", "shyness") influences to music, singing in English as well as Icelandic, while deliberately ignoring the latest technical advancements: a bedroom, a bunch of guitars, flutes, and a glockenspiel will do just fine, just like that one microphone they placed in the middle of the house they rented to record their fragile DIY gems. It's like they don't really care as long as there's enough room (see the track "Moi") for singing in unison.
Accordingly, Pascal Pinon manage to turn the natural limitations of adolescence (not enough money for better mics; a lack in experience) into their very advantage, keeping their tracks short and crisp, and avoiding both the cheap slickness of campfire (or geyser) romanticism and the supposedly fresh edge of the next teenage hype that's after Twitter battles with Justin Bieber or the most "Likes" on Facebook. Instead, Pascal Pinon are all about creating a connection, the smallest possible distance between their own feelings (they're teenagers after all) and the listeners. On their MySpace, it says "Sounds like: a whisper in your ear" for a reason.
Call it Nude Folk, New Romanticism or The New Shy – what matters is that Pascal Pinon, though no longer the "gang of 14-year-olds" they were when they recorded this album, are just getting started: While their s/t debut, which they independently released in Iceland, earning them a nomination for "Newcomer of the Year" at last year's Icelandic Music Awards, has been picked up by Morr Music for an international release (naturally it was their parents who signed the contract), they're already busy learning new instruments and working on their sophomore LP. Considering that, the whole claim about their songs being "all terrible shit" is not even an understatement. It's an outright lie.
Pascal Pinon

:

Pascal Pinon

Undir Heiðum Himni

Pascal Pinon

1' 46''

Árstíðir

Pascal Pinon

3' 27''

Baldursbrár

Pascal Pinon

2' 01''

Ósonlagið

Pascal Pinon

2' 20''

Djöflasnaran

Pascal Pinon

2' 45''

I Wrote A Song

Pascal Pinon

2' 23''

New Beginning

Pascal Pinon

1' 55''

Sandur

Pascal Pinon

3' 04''

Kertið Og Húsið Brann

Pascal Pinon

3' 04''

En Þú varst Ævintyri

Pascal Pinon

2' 26''
Nice as well: