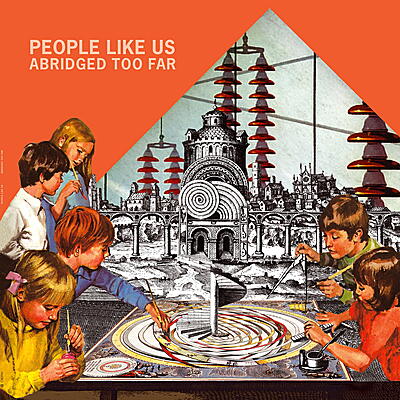 Incl. Instant Download
Abridged Too Far is the first of a series of vinyl by Discrepant to celebrate the 25th year of People Like Us publishing albums. First released in digital-only form in 2004 exclusively for UbuWeb (ubu.com), this album includes Vicki's John Peel session and performances for WFMU, amongst others, both from 2003, and now comes packaged with brand new artwork designed by Vicki Bennett.

People Like Us is audiovisual collage artist Vicki Bennett, who has been making work available via CD, DVD and vinyl releases, radio broadcasts, performances, gallery exhibits and online streaming for 25 years. Since 1992, she has developed an immediately recognisable aesthetic repurposing pre-existing footage to craft audio and video collages with an equally dark and witty take on popular culture. She sees sampling and appropriation as folk art sourced from the palette of contemporary media and technology, with all of the sharing and cross-referencing incumbent to a populist form. Embedded in her work is the premise that all is interconnected and that claiming ownership of an "original" or isolated concept is both preposterous and redundant.
People Like Us

:

Abridged Too Far

Nothing

People Like Us

3' 32''

The Doody Waltz

People Like Us

5' 54''

I've Got You

People Like Us

3' 03''

Dolly Pardon

People Like Us

3' 59''

Abridged Too Far

People Like Us

4' 10''

Swinglargo

People Like Us

5' 19''

Downtown Once More

People Like Us

3' 43''

Bier Bier Bier Downtown

People Like Us

3' 04''

DO or DIY

People Like Us

4' 02''

Nobody Does

People Like Us

4' 00''
Nice as well: