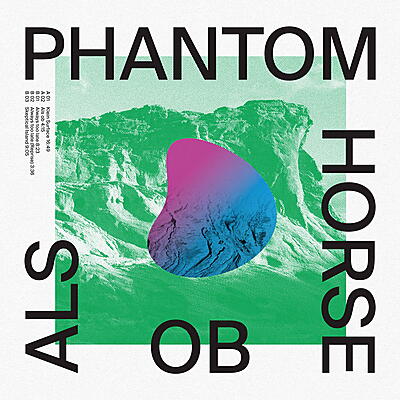 LP: Includes download, Ltd. to 350 copies, green vinyl, incl. postcard, initial copies come with A1 sized poster!
Incl. Instant Download
Music for post-apocalyptic deserts. Experimental synth-sounds with hypnotic percussions - imagine Moondog performing with John Carpenter and Cabaret Voltaire.

Relating to their live appearances, Phantom Horse might be named a lazy combo since they are not to be found on stage all too often. Yet their withdrawn approach fits this album very well - "Als Ob" is once more a journey through inwardness, a contemplative excursion to the electronic outback, still friendly asking for your attention. There's plenty of things to discover if you listen mindfully; the Phantom Horse rides out where you as a listener like to be lonely. Those ancient synths are still around, playing their melodies as if* there were no time thieves waiting around the corner (*That is what "Als ob" means).

Altogether, the sound has become more electric yet not eclectic, the duo has dekrauted, describing their sound as "more ritual" but of course avoiding any kind of mysticism and fairy-tale dullness.

Since 2015's "Different Forces" (also on Umor Rex), Phantom Horse have fleshed out their friendly stoicism that hauls their experimental synth sounds into the area of songs - maybe even pop songs that aren't tangible at least. Welcome to the insular state of Phantom Horse.
Phantom Horse

:

Als Ob

Klein Surface

Phantom Horse

16' 49''

Als Ob

Phantom Horse

4' 15''

Always Too Late

Phantom Horse

8' 23''

Always Too Late

(Reprise)

Phantom Horse

3' 36''

Skeptical Island

Phantom Horse

9' 05''
Nice as well: