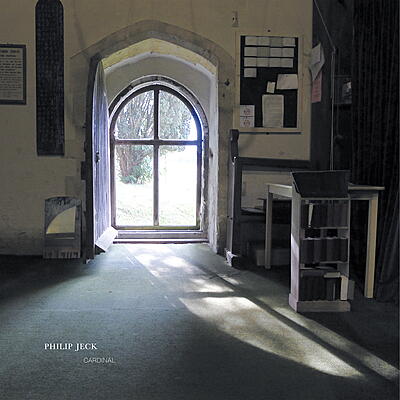 2LP: Includes download, Gatefold Sleeve, digital bonus track
Incl. Instant Download
Loop maestro Philip Jeck returns after more than 5 years. Equipped with some old record players from junk shops, Casio Keyboards, a bass guitar, minidisc players and some effects he manages to create a sublime record full of shiny drone movements & muddy ambient. Once again: bliss.


This album comes with a free download of Philip Jeck "Live in Caen", recorded by Franck Dubois on 28th February 2015 at Impressions Multiples #4 (ésam Caen/Cherbourg) with thanks to Thierry Weyd.

Philip Jeck writes:

"To make this record I used Fidelity record players, Casio Keyboards, Ibanez bass guitar, Sony minidisc players, Ibanez and Zoom effects pedals, assorted percussion, a Behringer mixer and it was edited it at home with minidisc players and on a laptop computer."

"... and they sparkled like burnished brass"

"Out of the depths of our complaints, it could be all so simple. To be never fooled by the finesse of a long-yearned for solidity, but in the momentary aplomb of a sleepy walk threading through familiar streets we'd hum our way, alto, baritone and tenor toward some harmonious end. An effect like some wonderful recollection of one or other of those technicolour movies. Not real for sure, but if you are in the mood...

"I would like to acknowledge the influence the writer Marilynne Robinson has had on this work. I would recommend reading any/all of her four novels and also "When I was a Child I Read Books" [Virago, 2012]. This collection of essays include "Austerity as Ideology", which dissects prevailing economic thinking, and "Open Thy Hand Wide...;" which continues with a celebration of liberal thinking as Generosity (and also turned over my received knowledge of Calvinism). Her ability to convey a love of humanity and sense of wonder about the great mystery of existence in her writing has, since I first read a book of hers, found a way into the way I think about my work - not illustrating but meditating upon." (April 2015)

About Philip Jeck:

Philip Jeck studied visual art at Dartington College of Arts. He started working with record players and electronics in the early '80's and has made soundtracks and toured with many dance and theatre companies as well as his solo concert work. His best known work "Vinyl Requiem" (with Lol Sargent): a performance for 180 '50's/'60's record players won Time Out Performance Award for 1993. He has also over the last few years returned to visual art making installations using from 6 to 80 record players including "Off The Record" for Sonic Boom at The Hayward Gallery, London [2000]. In 2010 Philip won The Paul Hamlyn Foundation Composers Award. He has been working with Touch since 1996 and this is his 9th solo album released for them.

Philip Jeck works with old records and record players salvaged from junk shops turning them to his own purposes. He really does play them as musical instruments, creating an intensely personal language that evolves with each added part of a record. Philip Jeck makes geniunely moving and transfixing music, where we hear the art not the gimmick.
Philip Jeck

:

Cardinal

Fleeting

Philip Jeck

3' 08''

Saint Pancras

Philip Jeck

2' 41''

Barrow in Furness (open thy hand wide

Philip Jeck

4' 18''

Reverse Jersey

Philip Jeck

4' 53''

...bends the knee 1

Philip Jeck

7' 13''

Called In

Philip Jeck

9' 23''

Brief

Philip Jeck

1' 46''

Broke Up

Philip Jeck

6' 55''

. ..bends the knee

Philip Jeck

6' 38''

Called Again

Philip Jeck

2' 56''

And Over Again

Philip Jeck

3' 03''

The Station View

Philip Jeck

6' 19''

Saint Pancras (the one that holds everything

Philip Jeck

4' 11''
Nice as well: