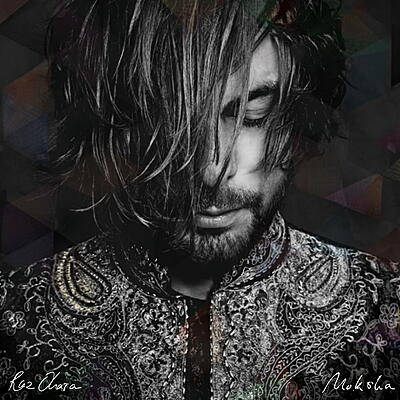 Incl. Instant Download
There are quite a few Raz Ohara stories that have been making the rounds, but the best one is perhaps the one about how he landed his first record deal: When his debut album Realtime Voyeur was released back in 1999, Raz was merely 24 years old and he'd only just arrived in Berlin. Here's what happened: One day, Raz just walked into Kitty-Yo's label office and dropped off a CD with some demo tracks. Since he'd run out of demos, his original plan was to return to the office later that day to pick it up again – but when he returned, he found the label bosses totally in awe and struck by his music, and thus a deal was made. It's the kind of story that only gets better each time it's retold… Ever since, Raz Ohara has continually honed his production skills and refined his organic, dub-infused trademark sound, and yet the album he's about to drop easily marks a milestone in his career. It's a career that has repeatedly seen changes in direction, that has crossed over into techno and pop terrain, and that now sees him revisiting all the different styles, lessons and approaches of the past 15 years and rolling them into one massive oeuvre: Moksha. Accordingly, his latest full-length is jam-packed with intricate cross-references and wild cross-pollinations, while he's making sure the vibe remains just right from beginning to end. A term like "dub" might be in the right ballpark, but you can also hear soul music on Moksha, at least hints of soul, subtle hints. It's actually the kind of slow-moving, static-laden soul that can only evaporate from the infinite echo chambers of Ohara's (dub) lab. Each track's different, a world of its own. Extremely dense and yet transparently arranged, the soundscapes on Moksha are vast, roomy, and yet they remain somewhat mysterious around the edges. As if he was some kind of magician, it's music that touches upon so many things at once, seemingly diverging, until it all converges back into a "whole" that makes perfect sense.
Strictly speaking, it does make sense, but hardly at first listen: Raz repeatedly makes sure the tracks' ragged and tripping arrangements remain abstract just long enough to confuse the listener, until everything finally falls into place. Examples abound: Most beats and percussion elements seem to exist merely for themselves, usually dropping in when you least expect them – making the resulting groove patterns (and groove it does) even more miraculous and amazing. Elsewhere, warm layers of sound or frozen melodies appear out of nowhere, linger and grow for a while, then die down again. It all seems to form and flow at random, with tracks spilling over into the next, intertwining and flowing onwards: As a listener, you soon have to surrender and drown in these pulsating soundscapes, which Ohara wrote and produced single-handedly. Usually, he'd start with actual instruments and recorded bits and pieces, which he then reworked and sampled, thus blurring the lines between acoustic and electronic to a degree where it's impossible to tell which is which.
The first beat that's actually pretty straightforward (and funky) serves as the foundation of the only cover song on this album: "True Love Will Find You In The End" by Daniel Johnston. Whereas most of his own beats are assembled from acoustic elements, this is the only track that sees him relying on a drum computer. Even more surprising: When he utters that promise of love in all its harmonious beauty, it sounds so honest, so heartfelt, you have to believe his every word. Quite a touching moment indeed.
"Two Young Mates," in comparison, with its soft walls of guitar, channels post-grunge bands like Ride or Lush – or even Pluramon. It's amazing to see this wall of sound grow over a steady beat, while Ohara actually shouts the lyrics instead of singing them: As if he was standing on a massive cliff overlooking the ocean, trying to get his message across to anyone who might be out there, behind the horizon. At the same time, it's another example of a song that's far from outspoken, taking shape more like a hazy echo of itself…
Up next he presents a rather abstract collage of clarinet, African percussions, and synthesizer sounds in shreds – forming, once again, some kind of dub music. If you've ever found yourself lost in a limestone cave, here's your soundtrack to that kind of adventure. In fact, each of these tracks has a cave-like feel to it, opening new spheres, which Ohara then fills with acoustic guitar bits and his voice, all the more compelling in its frailty. What's more, just when you're about to settle into this cave, feeling ready for contemplation and general wistfulness, he adds a beat that's borderline disco: Hard to believe, but the resulting track is both soft and heart-warming.
Moksha is the first release on Album Label, a new imprint under the Shitkatapult roof. Starting a new label in a hectic, fast-moving musical landscape like this, is indeed a bold statement, especially since Album Label's mission is to do exactly what labels have done in the past: build strong relationships with artists and offer continued support over a long period of time. Certainly an anachronistic move, when everyone else is after quick bucks and selling individual tracks. This rather old-school approach also implies that any release by Album Label takes time to make – and to take in as well: That said, Moksha by Raz Ohara is a perfect starting point, because it's a cave of forking paths that change direction every time you reenter.
Raz Ohara

:

Moksha

Sungaze

Raz Ohara

7' 49''

Little People

Raz Ohara

3' 40''

True Love Will Find You In The End

Raz Ohara

5' 53''

Two Young Mates

Raz Ohara

4' 56''

Beija Flor

Raz Ohara

8' 31''
Nice as well: