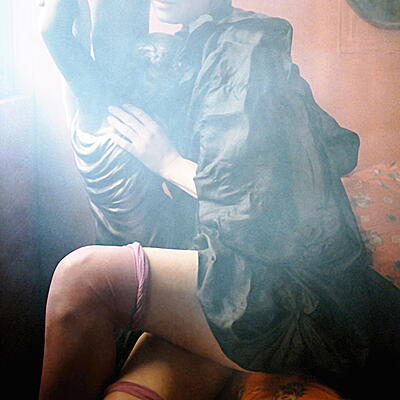 Vinyl with bonus-Cd (non-album tracks)!
Rene Hell is the latest and possibly greatest moniker of US noisenik Jeff Witscher. Over the last handful of years Witscher has made a name (and possibly a cult?) for himself under a plethora of different pseudonyms exploring various disparate styles. He has been known as Impregnable, Secret Abuse, Marble Sky and as part of Roman Torment and Deep Jew among others, and now he's settled on Rene Hell. With this project we find him focused on synthesized kosmiche sounds – but unlike many of his contemporaries (Emeralds, Oneohtrix Point Never etc), instead of delving into nostalgia there is something decidedly modern about Witscher's compositions. The bubbling, effervescent synthesizer sequences and percussive patterns seem to twist and turn over each other with a near-techno precision, and at times you might be forgiven for thinking that 'Porcelain Opera' had more in common with Basic Channel than Cluster.
'Porcelain Opera' is an album made by a consummate music obsessive, and Witscher is just as obsessive about his composition as he is his influences. The album's tracks seep into each other like viscous lava, decomposing and reforming as the track markers fade and re-appear. This is pure electronic music - songs created with analogue circuits and half-baked patch cables, dusty cassette tapes and greased-up potentiometers. And despite his noise roots, there is something distinctly sparkling about this collection of tracks. 'Prize Mischief Hold' fizzes and cascades from the speakers like a box of illicit Chinese fireworks, and the album's glorious centrepiece 'L.Minx' thunders through an electrical storm to reveal glorious, warming harmony.
Electronic music has been much maligned in recent years and its contemporary rediscovery seems almost too rooted in kitsch to be taken seriously, but Jeff Witscher's synthesizer gospels are more than just a flash in the pan. This is analogue exploration at its best, and once it digs its rusty talons into you, it refuses to let go.
Rene Hell

:

Porcelain Opera

Razor. P+

Rene Hell

6' 40''

Prize Mischief Hold

Rene Hell

3' 41''

IV 18:54

Rene Hell

6' 05''

C.G. Mask

Rene Hell

4' 47''

L. Minx

Rene Hell

9' 33''
Nice as well: