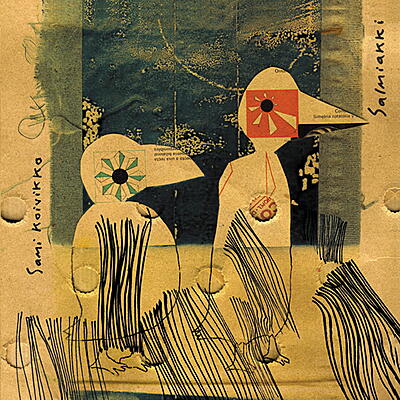 Incl. Instant Download
It's been over two years now since we laid down the minimal-tech-house lines of Sami Koivikko's single-trilogy "Kut Pulatin," which was so solid that it's best to listen with a knife and fork. It ended up in many record crates and was produced extremely clean, funky, catchy, simple, and somehow event innocent while still drop-dead gorgeous. "Salmiakki" introduces Sami Koivokko's first album that hits you, at first, with the fundamental solidity of, let's say, a bank conglomerate in Berlin that reveals small irregularities after closer inspection of the sort that would never fit into the picture-perfect chart of this young gun from Finland. The ten perfectly synched tracks glide rapidly through across the album in no rush but still powered by a driving motor for dirt-road speeds that hunt down road kill from time to time. It doesn't matter though cause it's just music right? This is definitely something for the disco but not the meat-market, rather the kind where everyone dances. This means even dancing alone on a crowded floor, in and out and all around back at oneself in a way where hippiesque indifference spreads from joy to entrapment. Let's be honest, this has saved many nights and even squashed certain let-downs in their tracks.

One can certainly understand "Salmiakki" as techno-listening if you will. It's this modest yet distinct presence animating you like rapids -- a dream of rhythm. Especially daytime thieves, butterfly collectors, music empathizers, and emotional doofs should be able to make some sort of discovery on "Salmiakki." Sami Koivikko's subtle emotional shifts are a ton of fun. There are sudden funny little plop-ups that aren't really funny to be funny, but maybe just because the world looks funny. There are long-lasting riffs, miniaturized melodies, vague signs swaying between melancholic joy and harmonic sense, always well hidden in the logical web of elements. One doesn't just find this delicate touch for minimal maneuvers in Sami Koivikko's musical life. Recently he moved from the northern Oulu to the southern Tampere because it is warmer there. The temperature margin in an average year is 0.7 degrees Celsius (Oulu 2.7°, Tampere 3.4°). This warming up of his physical existence has its price since alcohol is more expensive in southern Finland. Maybe that's why he called his album "Salmiakki," like the name of the Finnish national schnapps which, by the way, goes down smooth and kicks ass.
Sami Koivikko

:

Salmiakki

Kampakuta

Sami Koivikko

6' 19''

Materialist

Sami Koivikko

5' 35''

Unavun

Sami Koivikko

6' 47''

Matkani

Sami Koivikko

6' 13''

Työnimi

Sami Koivikko

6' 43''

Fairtrade

Sami Koivikko

5' 51''

Hermonik Lost

Sami Koivikko

5' 53''

Byrthe

Sami Koivikko

5' 10''

Pehme

Sami Koivikko

6' 05''

Rakkaus Pakkaus

Sami Koivikko

6' 26''
Nice as well: