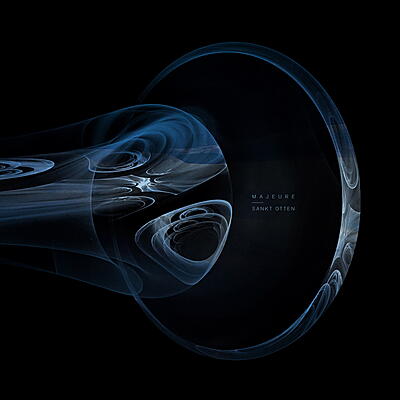 LP: Includes download, 2015 Re-Issue, thick gatefold covers with special 3D print, 180g vinyl
MAJEURE – the solo project of ZOMBI's drummer A.E. Paterra – has already received a lot of attention via the two albums on Temporary Residence Records, a remix record released in 2010 and a split with STEVE MOORE. "Majeure delivers inspiring sci-fi disco of the highest caliber. Anchored by Paterra's sturdy, propulsive live drums, each song uses layers of analogue synthesizers to masterfully craft extended compositions that virtually stop time before speeding it up, culminating in countless moments of genuine majesty.""

The German duo SANKT OTTEN works together since 1999. Until 2015 they have released 6 albums and several eps + singles. The project received a wider international attention after joining Denovali Records in 2009. An essential part of their discography is their trilogy with the art of the spanish painter Salustiano (Gottes Synthesizer, Sequencer Liebe, Messias Maschine).

In early 2010 fortunately both projects decided to start a cooperation full length project together. After listening to the record, you hopefully agree that more talented artists should team up for collaboration releases like this one. With "Moonbow", Majeure contributes a well fitting and rather positive sounding introduction to the record, followed by the beat orientated masterpiece "The Traveler" and a more depressive horror sounding "Aleph Institute". The ""Timespan"" album was described as "totally stompin' analogue synth heaven" – "The Traveler" brings this impression to perfection. "Aleph Institute" on the other hand follows the way Paterra already evolved with ZOMBI – a long depressive hypnotic journey. With the 10 minutes track "Es ist nicht alles Gold was glänzt" and with "Ich beantrage die Unsterblichkeit" SANKT OTTEN mix their own well known sophisticated spherical sound with a more ZOMBI like drumming and atmosphere. The result: they chip in two songs which easily hop into the top five of the best songs they have ever written. Track 4 "Mit offenen Augen" and 5 "Der Sonne entgegen" rather tie in with the "MORGEN WIEDER LUSTIG" album sound and retain the quality of album number four.

The Cd version offers the bonus track "Höhere Gewalt" by "Sankt Majeure". Both artists created different parts and assembled them to a 4:19 Blade Runner tribute piece.
Sankt Otten + Majeure

:

Sankt Otten + Majeure Split

The Traveler

Majeure

7' 48''

Aleph Institute

Majeure

6' 38''

Es ist nicht alles Gott was glänzt

Sankt Otten

9' 58''

Ich beantrage die Unsterblichkeit

Sankt Otten

3' 26''

Mit offenen Augen

Sankt Otten

3' 56''

Der Sonne entgegen

Sankt Otten

3' 55''

Höhere Gewalt

Sankt Majeure

4' 20''
Nice as well: