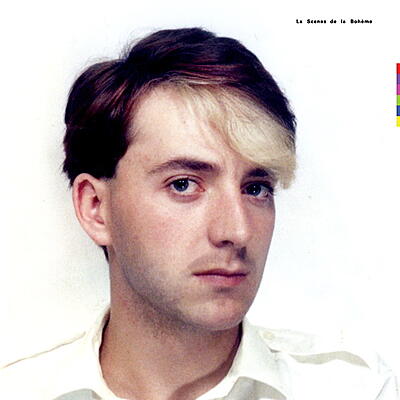 LP: 180g black vinyl, ltd. to 499 copies, incl. printed inner sleeve
LP (color): 180g transparent yellow vinyl, ltd. to 500 copies, incl. printed inner sleeve
Minimal Wave presents an LP of 6 songs by cult U.K. project Scenes de la Bohème, entitled 'Standing in the Rain'. Scenes de la Bohème was formed by Anthony Waites in London, in 1981 with an innate desire to create poetic, subversive pop music. Without any intention of ever signing to a record label, he self-released one untitled 7" single in 1982, an edition of 150 copies, with money funded to him by his parents for his 21st birthday. He often used borrowed synthesizers to record his music in various bedroom studios and friends' houses supplemented by his beloved cherry red Hagstrom guitar. The two songs that he released were 'Zara', an earworm of a pop song about a longed for girl standing in the rain, and 'The Tale of the Butterfly'. Unlike many other bands of the time, he never sent the single or his demos to John Peel, The NME, Beggars Banquet, nor Rough Trade and so it was lost to obscurity until a few record collectors 'discovered' it some 15 years ago. Scenes de la Bohème's Untitled 7" single continues to fetch exorbitant prices in collectors' circles so we are especially happy to be able to make this release available in the form of a newly mastered LP, which includes four unreleased tracks that Waites had recorded at the time.

The LP is pressed on 180 gram vinyl, as a limited edition of 999 (499 black and 500 transparent yellow), and features beautifully restored images of Waites and his main partner in crime, Seamus Fitzsimmons. The inner sleeve holds Waites' story, his musical inspirations and explorations as an Irish youth growing up in London in the early 1980s and discovering the avant-garde.
Scenes de la Bohème

:

Standing In the Rain

Zara

Scenes de la Bohème

56''

Leap Into The Void

Scenes de la Bohème

45''

Avant Garde Guitar

Scenes de la Bohème

45''

A City Such As This

Scenes de la Bohème

49''

Hello Dorian Gray

Scenes de la Bohème

45''

The Tale Of The Butterfly

Scenes de la Bohème

46''
Nice as well: