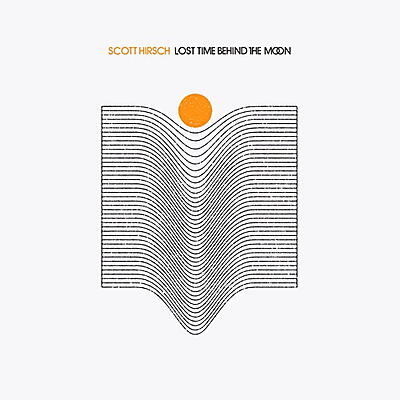 LP: Includes download, Gatefold sleeve, incl. printed inner sleeve
Songwriter and multi-instrumentalist / producer Scott Hirsch has recorded a follow up to his critically acclaimed 2016 record, Blue Rider Songs. On Lost Time Behind The Moon, Hirsch chronicles confronting ghosts of the past, acknowledging that darkness rides alongside the light, and avoiding the pitfalls of regret. The record was recorded and produced by Hirsch with the help of Mike Coykendall (M Ward), and features musical guests William Tyler, Mikael Jorgensen (Wilco), Orpheo McCord (Edward Sharpe), Jimmy Calire (America) and Jesse Siebenberg (Lukas Nelson, Supertramp).

Scott Hirsch's name is one you'll find lurking in the liner notes of many admired recordings from the late 1990s to the present. As a founding member of Hiss Golden Messenger, he was integral to the band's first five records, lending his sonic imprint on their productions, as well as shaping the sound of the live outfit, having toured heavily through the formative years of the band. Much of this work is reflected on the forthcoming Merge Records box set entitled Devotion: Songs About Rivers And Spirits And Children. Along the way he produced and played on records by Kim Krans' Family Band, as well as recording a Grammy-nominated record by the legendary folksinger Alice Gerrard. Having stepped off the demanding tour schedule of Hiss in 2016, new pathways opened up for Hirsch to fully engage in the craft of songwriting. On this second record, his production tones and songwriting talents are in full bloom.
Scott Hirsch

:

Lost Time Behind The Moon

When You Were Old

(El Dorado)

Scott Hirsch

3' 15''

Long Lost Time

Scott Hirsch

4' 00''

Nothing But Time

Scott Hirsch

3' 38''

Rose's Song

Scott Hirsch

4' 25''

A Pair of Nines

Scott Hirsch

4' 24''

Spirits

Scott Hirsch

3' 35''

No No

Scott Hirsch

5' 38''

Valley of the Moon

Scott Hirsch

3' 20''

Pink Moment

Scott Hirsch

2' 25''

Evening's Wooden Drum

Scott Hirsch

3' 42''
Nice as well: