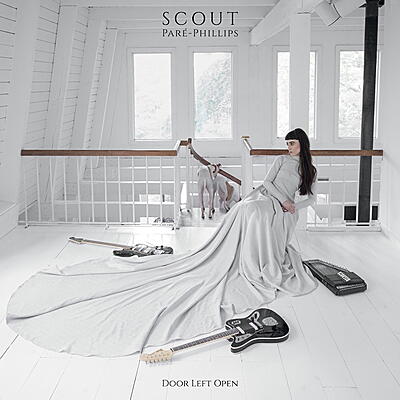 Two years have passed since Scout Pare-Phillips' debut album, Heed the Call, was released on Dais Records, followed by domestic and international performances celebrating her solo work. During the downtime, Scout has been writing, recording & performing newer songs that would become her cultivated follow-up release, "Door Left Open". Scout's musical foray started with the Baltimore based post-punk/country act, The Sterling Sisters. Within the Sisters, her skills as one-half of the primary songwriting force, coupled with her varied instrumentation and balladeer vocal projections made way for Scout to step aside and embark on her own solo performances and creative endeavors.

Scout's operatically trained soprano voice combined with her seemingly effortless proficiency with instruments such as the autoharp and baritone guitar create her own unique hybrid of old time folk storytelling and modern illusionary contrast. Influenced by acoustic legends such as Sibylle Baier and Leonard Cohen, the vocal conviction of Roy Orbison, and still holding poetic court with players like Rowland S. Howard, Nick Cave and Diamanda Galas, Scout Pare´-Phillips' songwriting lands in the middle of some very intriguing yet complex influences.

Crashing crescendos of guitar, percussively strummed autoharp, swooning cello, hovering keyboards, and an array of both acoustic and electronic percussion by Scout's beloved musical collaborator, Emil Bognar-Nasdor (Dawn of Humans, Røsenkopf), populate her LP. Scout's torch songs of pure, raw emotional outpouring compliment the rich timbre of her trained voice, which breathes a new life into the contemporary idea of a "folk singer". Her narrative about two lovers being torn apart and brought back together over many years has formed a new genre within acoustic music's storytelling tradition.

Recently, Scout's talents have been noticed by Jack White (The White Stripes / Third Man). She was asked to accompany him on Lazaretto and even star in White's new video, Would You Fight For My Love?.
Scout Paré-Phillips

:

Door Left Open

Door Left Open

Scout Paré-Phillips

3' 30''

Fire

Scout Paré-Phillips

4' 22''

Howl

Scout Paré-Phillips

4' 02''

Another

Scout Paré-Phillips

2' 59''

The Fall

Scout Paré-Phillips

4' 05''

Wounded Son

Scout Paré-Phillips

2' 36''

A Love This Hard

Scout Paré-Phillips

3' 14''

Crying

Scout Paré-Phillips

2' 59''

Pale Blue Dawn

Scout Paré-Phillips

2' 24''

Stay

Scout Paré-Phillips

4' 11''
Nice as well: